===
The Best New Restaurants In LA, According To The Pros (PHOTOS)
This story comes to us courtesy of Refinery29.
With new restaurants popping up everyday, deciding where to eat dinner in LA is no small feat. So, we've turned to the pros! Ahead, six influential local foodies give us the scoop on their favorite new restaurants, which tasty trends are getting them excited, and why Los Angeles is such an exciting place to be hungry right now. We hope you've got an appetite…
1. CONNIE & TED'S

Who: Ellen Bennett, Founder, Heldley & Bennett Aprons
Favorite new restaurant In LA:
"Connie & Ted's is definitely my favorite restaurant! It looks like a giant boat parked in the middle of West Hollywood. The quality of the ingredients is at the level of Providence, but it's way more casual."
Food trend predictions:
"It seems like everyone is revolutionizing the typical ice cream!"
What's most exciting about the LA food scene right now:
"The coolest thing about the LA food scene is how the farmers and their produce are becoming the stars."
Connie & Ted's, 8171 Santa Monica Boulevard (at Crescent Heights Boulevard); 323-848-CRAB.
2. TAR & ROSES

Who: Teri Lyn Fisher and Jenny Park, Founders, Spoon Fork Bacon
Favorite new restaurant In LA:
"Tar and Roses in Santa Monica! We're both big fans of cheese and charcuterie, and this place definitely specializes in it. The space itself is cozy and the brick walls are a nice touch."
What's most exciting about the LA food scene right now:
"What makes the L.A. food scene so exciting right now — and always — is that it's such a multiculturally influenced city that there are constantly new and different foods to try. It's impossible to get bored with so many fun and unique options."
Tar & Roses, 602 Santa Moinica Boulevard (at 6th Street); 310-587-0700.
3. MOON JUICE

Who: Kat Odell, Star of Bravo's "Eat Drink Love" and Editor of Eater LA
Favorite new restaurant In LA:
"This is actually more of a shop/cafe, but I am over the moon for the new Moon Juice in Silver Lake. I love the celestial meets clean-hippy aesthetic and energy. The space is studded with crystals, there's a refrigerated case up front with a rainbow of cold-pressed juices and nut milks in fun flavors like 'tomato-watermelon' and 'pumpkin-seed ginger,' and chef/owner Amanda Chantal Bacon is serving a sophisticated raw snack menu with the likes of strawberry geranium bars. I am by no meats a raw foodist — or even a vegetarian — but her healthful snacks are the kind even carnivores will appreciate."
What's your favorite current food trend:
"I have to say, as over-saturated as the 'cronut' trend is at the moment, I love me some fried dough! My favorite iteration has been from ConfeXion in Pasadena. It makes a serious brioughnut, which is glazed and topped with maple bacon."
Moon Juice, 2839 Sunset Boulevard (at Silver Lake Boulevard); 213-908-5407.
4. BAR AMA

Who: Matthew Poley and Tara Maxey, Chefs/Owners, Heirloom LA
Favorite new restaurant In LA:
"We love Chef Josef Centeno's restaurants downtown, Bäco Mercat and Bar Amá. And, we can't wait for his new place Orsa & Winston to open. His food is playful, but not experimental. It's food you can eat everyday."
What's most exciting about the LA food scene right now:
"The fact that chefs are growing some of their own produce on their rooftops, in their parking lots, and even on their counters!"
Bar Ama, 118 West 4th Street (between Main and Spring streets); 213-687-8002.
5. THE HART AND THE HUNTER

Who: Talamadge Lowe, Founder and Drinkist, Pharmacie LA
Favorite new restaurant In LA:
"I love The Hart and The Hunter. Being from the South, I'm a sucker for fried-chicken skin and pimento cheese! And, even though it is a beautifully designed restaurant, it feels like a quiet little hole-in-the-wall discovery."
What's most exciting about the LA food scene right now:
"Two things: The availability of just about anything and everything from produce to sprits as well as the inclusive nature of the city's bars and restaurants and caterers. It seems like everybody knows just about everybody. I love that!"
The Hart and The Hunter, 7950 Melrose Avenue (at Fairfax Avenue); 323-424-3055.
6. CROSSROADS

Who: Jenny Engel and Heather Goldberg, Chefs/Owners, Spork Foods
Favorite new restaurant In LA:
"Crossroads is our new fave. We love the space because it's clean, modern, and elegant. It shows food lovers a mature side of vegan cuisine that Los Angeles hasn't seen yet. The menu changes seasonally, which we enjoy!"
What's your favorite current food trend:
"We are constantly inspired by DIY techniques, and have even experimented with making our own scorpion-pepper-infused vodka and home-made bourbon vanilla extract."
Crossroads, 8284 Melrose Avenue (at Sweetzer Avenue); 323-782-9245.
========
=====
The Best New LA Bars To Check Out This Fall/Winter
October 29, 2013 6:00 AM
(Photo credit: Frank Ishman)
Dirty Laundry Bar
1725 Hudson Ave.
Los Angeles, CA 90028
www.dirtylaurndrybarla.com
From the men who brought you No Vacancy & Pour Vous, the Houston Brothers bring you the brand new Dirty Laundry Bar. During the prohibition it served as the personal speakeasy for silent film actor Rudolph Valentino. In order to preserve the speakeasy atmosphere, the 1,500 square foot space hosts an exposed brick ceiling, deconstructed light fixtures and black leather couches.
====
NYTimes T Magazine
Accommodations | A New Hotel in L.A. Celebrates its Koreatown Surroundings
=
Create, a new 20,000 sq. ft. gallery in Los Angeles
Willie Jane, a beautiful new Southern style cooking restaurant in Venice, CA by Govind Armstrong.
Vanguard, a new nightclub in Los Angeles
Le Ka, a new French inspired artisan restaurant in downtown Los Angeles
.
Much good news is on the way in terms of the continuing range of offerings in downtown Los Angeles. The Grand Central market already has six new vendors; several others are on the way, including Olio pizza, who is bringing in an oven from Italy and who will only cook by fire. The Medallion building, originally designed to showcase wholesalers and discounters, has changed course. Now they're planning for ten restaurants to move into their 125 million dollar space, plus a 27,000 square foot farmers market, instead of trying to lure a supermarket. And check this out – the Alamo Draft House from Austin, Texas is opening an eight screen independent film showcase. You will be able to order food and drinks at your seat.
—
The New York Times did a phenomenal advance review of it in January 2013. It noted:
Hinoku & the Bird – some dining options.
Le Grand Fooding comes to MoCA Geffen from Paris in April, 2013.
Chi Spacca is the latest restaurant in the Mario Batali, Nancy Silverton, Osteria Mozza, Pizzeria Mozza LA Italian food empire.
Baryard Restaurant in Venice is one of the best new places that have opened in LA in 2013.
Barnyard Venice exterior. Its chef worked at the French Laundry in Napa.
Superba Snack Bar in Venice is also adding to the how new LA dining scene.
Bestia is one of the most months in advanced booked new Italian restaurants in California. Its in downtown Los Angeles.
A sample of Bestia's in-house salumeria offerings.
A dish at Bestia.
Figaro Bistro has opened in downtown LA.
alma new american french 952 s broadway los angeles ca is getting superior reviews from LA's genius restaurant critic Jonathan Gold. He says there is no one cooking like Alma in LA, its on its way to being a global destination restaurant.
An example of Alma's cooking.
—
===========
In late 2012 and early 2013, LA will experience a new wave of most remarkable new restaurants.
http://eriksun.com/2012/09/23/salumi-defined/ (photo)
Bestia, an amazing new Italian restaurant that will open in the downtown LA arts district. It will feature 30 kinds of salumi and an Acunto pizza oven from Naples, Italy.
–Le Grand Fooding Announce LA Event
By FDL on September 24, 2012
The team at Le Grand Fooding, publishers of the Le Fooding Restaurant guides and organizers of food events in New York, Paris and Milan, have announced plans to stage a food event in LA.
The team have recently held their fourth annual New York event – this time with a focus on upcoming chefs and say that tell the LA Times that they picked Los Angeles because it's just a lively as New York but still very different from the Big Apple.
Known for throwing quirky events that mix social and dining experiences perfectly with some of the worlds best chefs, Le Fooding has built a solid reputation over the years. With New York offices now opened and the announcement of an LA event in the works – it's seem there's a Le Grand Fooding revolution taking place State sid
—
"Republique, a concept from acclaimed chef Walter Manzke and prolific restaurateur Bill Chait, will replace the Cal-Mediterranean restaurant at the landmark 1929 address originally owned by Charlie Chaplin.Beginning in 1989, chef/owner Mark Peel and his then-wife Nancy Silverton, who now nurtures industry hotbed Mozza not too far away in Hancock Park, helped define a quintessentially L.A. sort of white-cloth yet rustic Cal-Mediterranean menu that would eventually emerge as one of the most dominant trends in the city's restaurant culture in the 1990s."
–
Jeremy Fox Launches Barnyard Restaurant In Venice
"Los Angeles, CA(July 17, 2012) – Chef Jeremy Fox, formerly of Ubuntu and Manresa, is readying Barnyard Venice for a 2012 opening. In his first solo project since Ubuntu, Fox's Barnyard will showcase his own interpretation of peasant cuisine, offering shareable plates of rustic, seasonal fare. Says Fox, "Barnyard will be a product of everything I have learned on my cooking journey. Not only do I look forward to exploring the flavors of the Mediterranean and North Africa, and incorporating elements from my childhood in the South, but to continuing the voyage as the Barnyard menu evolves." Barnyard is located at 1715 Pacific Avenue in Venice.""About Jeremy Fox
Jeremy Fox opened Ubuntu in 2007, where he was named a Food & Wine Best New Chef 2008, Bon Appetit's 2009 Best Chef, and received James Beard Best Chef Pacific Award nominations in both 2009 and 2010. In Fall 2009, Ubuntu became the first modern vegetarian restaurant to receive a Michelin Star.

Prior to Ubuntu, Jeremy spent five years working for his mentor, Chef David Kinch, at Manresa, eventually rising to the position of Chef de Cuisine. During his tenure, Manresa received two Michelin Stars and four stars from the San Francisco Chronicle

. Fox has also staged at the Michelin three-star Restaurant Gordon Ramsay and the widely acclaimed St. John, both in London, as well as the Michelin two-star De Snippe in Belgium. Since leaving Ubuntu, Jeremy has been working on a vegetable cookbook for Phaidon Press and has consulted for restaurants including Plum, Tyler Florence's Rotisserie & Wine, Freddy Smalls, and Paper or Plastik Cafe."
Plan Check restaurant and Bar, West Los Angeles
Plan Check restaurant and bar just got the review of the century (10.20.2012)  for its technology driven modernist cooking ultra burger by Jonathan Gold in the LA Times. Gold also mentions that Plan Check may have more Japanese whiskey than all of the other restaurants in LA combined.

"Plan Check (West Los Angeles) – Industrial atmosphere, small batch liquors, and wagyu burgers." (Text and Photo by Blackbook/Los Angeles)
New Los Angeles restaurants and bars, July 2012

Kitchen 24 downtown LA (la.eater.com photo)


Perch restaurant and bar downtown LA (hooplablog.com photo)

The Parish downtown LA true 2 story gastropub (photo: Longrada Lor)
We went to The Parish for Sunday dinner at 6pm during opening week. The tomato soup and wonderful toast with Grafton cheese started the evening, along with cocktails. Broth infused tasty clams and other dishes followed.
The dining area is on the second floor of a Flatiron shaped building on South Spring street. The bar is also on the second floor and was packed even at this early hour.
———
Departures magazine names n/naka one of the Top 1- World's Top Tasting Menus for 2012
2012
Stumptown Coffee is expanding to LA.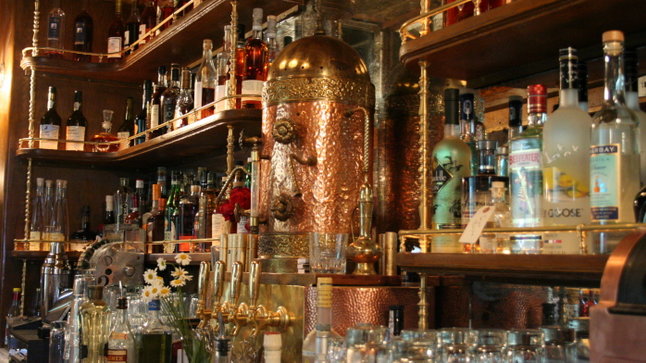 Pour Vous bar, Hollywood
"The space is separated into four main parts: a lengthy marble bar to the left, w/ antiqued mirrors and a steampunk-ified vintage espresso maker rejiggered to pour four tap beers; a sunken seating area to the right, w/ plush velvet couches and a fireplace under a domed skylight; a formerly working train trolley (!) that's been refurbished into a backyard smoking area" Thrillist
Wolfslair Biergarten, Hollywood
Little Bear Belgian beer bar in east of downtown Los Angeles is rolling. (Photo: Savory Hunter blog)
Umamicatessen's Soft Opening, DTLA (Photo: Darin Dines/Eater National Flickr Pool)
For years Water Grill was the only Michelin starred restaurant in downtown LA. Now its has completed a $1.5 million upgrade and is more fabulous and phenomenal than ever.
Fresh seafood displayed at the bar counter at the Water Grill in downtown LA
Govind Armstrong's new Post & Beam is the first truly upscale restaurant and cocktail bar in Central Los Angeles, south of the Santa Monica (10) freeway in a predominantly African-American community. Nearby is one of the wealthiest black communities in the U.S. in Baldwin Hills.
Pasta at Post & Beam in Central Los Angeles
–
Beacher's Madhouse at the Roosevelt Hotel, Hollywood
"And fourth, saving the wildest for last is Beacher's Madhouse — a revolutionary Vaudeville-inspired theater on the hotel's lower level, with European influences and echoes of the Folies Bergére. The venue extends 3,000 square feet, featuring a mirrored passageway, a 1920s-inspired main stage, antique brass accents and red velvet curtains. Eighteen VIP banquettes of various sizes are available throughout the theater including an exclusive birdcage booth with seating for 20. Concessions and catering are offered to guests as they enjoy the performances and order drinks from the Beau Joie Flying Midget bartender mixing up cocktails at the fully operating Midget Bar."
Beacher's Madhouse Theater, Thompson's Hollywood Roosevelt Hotel.
Artisan House joins Botegga Louis and many new restaurants coming to the quickly transforming Broadway corridor.
Artisan House
Officially opening today, this massive, high-ceilinged complex full of reclaimed marble on the ground floor of the Pacific Electric Lofts in the Historic Core is remarkably ambitious. The sit-down restaurant serves foie gras terrines just a block from Skid Row. The bar finds mixologist Elden McFeron III, a vet of The Bazaar, whipping up margaritas cryo-frozen with liquid nitrogen. And the market annex sells made-to-order deli sandwiches—as well as gelato, wine and more—until 2AM (and an hour later on weekends). 600 S. Main St., L.A., 213.622.6333, artisanhouse.net (Hollywood Reporter)
Oldfield's bar
Pattern Bar opened in the fall of 2011 on  9th/Main in Downtown LA
Batch Restaurant & Bar is now open in Culver City offering artisanal food and handcrafted cocktails in a sophisticated and lively environment.
Short Order is one of several new LA gourmet burger bars. They recently added a selection of savories by Walter Manszke, whose won restaurant, Republique, is on the most anticipated new dining destinations in LA. It will be downtown.
Golden Road Brewing , Los Angeles
Chicago has seen the rise and collapse of brewpubs since the late 1980′s. The now famous Goose Island (an actual tiny island with a superb brewing facility and lively bar and restaurant in Chicago) hails from that time and is a standard-bearer today. The Chicago Beer Society's Real Ale Festival started in 1996 and was closed in 2003, when the were forced out of business by the liquor commission who said they had to license the former steel factory they used each year as a year round tavern. The festival closed and relocated to San Diego. Chicago's global beer bar – the Map Room – opened in 1992. The Chicago Beer Society was formed in 1977. Ray Daniels Cicerone Certification Program has so far produced 38 Certified Cicerone's in Chicago and 8 in Greater Los Angeles. The 6,000 square foot The Publican (Belgian beer and grub bar, every waiter and bartender is a certified beer server (level 3 in the Beer Cicero education program, with Master Cicerone and Certified Cicerone being levels one and 2. There are now 2 Master Cicerone's in Chicago). Unbelieveably, and unlike in the past, when major breweries were out to destroy the smaller breweries, Goose Island has been absorbed into Anheuser-Busch In Bev, yet Goose Island remains a true artisanal brewer with its full arsenal of flavors. Chicago is building neighborhood breweries to compliment the rise of their city's culinary programs to being at the upper strata of American cuisine. Since it was city-based breweries that did not ship out their beer that were at the start of the American beer industry, what we have then is a return to the same place that the industry started, but this time, actually producing product in America that has already been on this planet for somewhere between 700 and 2000 years, depending on the place of the earth you choose as a starting point.
Ray & Stark bar, LACMA
–
Cook's country is one of the most rewarding new artisan restaurants in LA.
For the last few months, the corner of 5th and Mateo in the Arts District of downtown Los Angeles has been abuzz with activity as the WoodSmithe team puts the finishing touches on Handsome Coffee Roasters' flagship store. Handsome has made a splash in the specialty coffee world since they announced that Tyler Wells and Chris Owens would be teaming up with World Barista Champion Michael Phillips to launch the coffee company of their dreams.
With the space nearly ready to open its doors, the collaboration between the roasters and the builders—who also happen to be neighbors—seems like a natural one. Also in on the operation is Na Young Ma's Proof Bakery, whose pastries will be served alongside the coffee.
"Current site photo via Culver City Times The Jazz Bakery is getting a new permanent home in Culver City and it'll be designed by Frank Gehry, who we don't often see around these parts anymore. The jazz nonprofit has been itinerant since 2009, when it lost its lease in the Helms Bakery complex, but about a year ago it got a $2 million grant from the Annenberg Foundation and made a deal with the Culver City Redevelopment Agency for a piece of land on Washington Blvd., next to the Kirk Douglas Theatre. Last night, the city council signed off on the land deal (probably in advance of the redevelopment agency apocalypse going down tomorrow), reports the Culver City Times. The Jazz Bakery will get the land for free on the condition that it goes ahead with plans for a "premier live performance state of the art jazz venue with two hundred and fifty (250) seats, ground level lobby, a jazz museum, black box performance area and a bakery/café with outdoor dining," as described by the staff report on the matter. The Bakery plans to hold about 250 shows a year. According to the CC Times, the whole project will cost $10.2 million, so the Jazz Bakery will be holding a capital campaign to supplement the Annenberg grant." (Curbed)
When the Academy of Motion Picture Arts & Sciences gathered for a recent staff meeting at the Pickford Center in Hollywood, the group had the opportunity to see a piece of movie history that impressed even the most senior executives: a pair of ruby slippers from "The Wizard of Oz."
It was the first time since AMPAS made the acquisition in February that anyone within the org had seen the shoes, and everyone celebrated with red velvet cupcakes embellished with tiny, garnet-colored shoes.
The footwear unveiling was a tangible sign of how much closer the org is getting to opening the decades-in-the-making Academy Museum of Motion Picture Arts & Sciences, the centerpiece of which will be Dorothy's magical shoes. The Academy recently named execs to run the museum, which is targeted to open at LACMA's May Co. building in 2016.
"The experience of seeing (the slippers), especially in a crowd, puts everyone in touch with their inner film geek," said Anne Coco, graphic arts librarian.
The high-profile pair of shoes is just one of the recent additions to the Academy's massive collection of scripts, press clippings, biographies, costume sketches, movie posters and personal papers, amassed over more than eight decades, that will provide fodder for a wide scope of exhibits when the museum opens.
The library is also processing late-2011 donations from producer Stephen Chin, who gave the library several kung-fu movie posters, and Chicago-based real estate developer Dwight Cleveland, who provided rare film posters from his collection.
"The library is the history of our country, the history of our culture," Hudson explained."
Berggruen builds collection for Los Angeles (excerpted)
The German collector shelves plans to build a Berlin museum in favour of long-term loans to the US
By Gareth Harris. News, Issue 231, January 2012
Published online: 05 January 2012
Berggruen is focusing on German and West Coast artists, including Chris Burden, whose Metropolis II (right) is already on loan to Lacma from the collector
The private collector and billionaire Nicolas Berggruen, son of the late German-Jewish art dealer and philanthropist Heinz Berggruen, is set to follow in the footsteps of the collector Eli Broad by sending several works on long-term loans to the Los Angeles County Museum of Art (Lacma), where Berggruen is a trustee. "I'm building up a collection for Lacma," he says, "focusing on German artists such as Thomas Schütte, Martin Kippenberger, Gerhard Richter and Joseph Beuys." Works by West Coast artists such as John Baldessari, Ed Ruscha, Charles Ray, Paul McCarthy, Bruce Nauman and Mike Kelley from Berggruen's collection are also due to end up at the museum. "Los Angeles is still a developing cultural centre and that's why one can make a difference there," he says.27 Jan 12
By Stephanie Murg on January 23, 2012 9:51 AM
United Artists Theater to Be Ace Hotel
Posted: Monday, January 23, 2012 7:45 pm | Updated: 3:53 pm, Tue Jan 24, 2012.
By Ryan Vaillancourt, Staff Writer | 0 comments
DOWNTOWN LOS ANGELES – Oregon-based Ace Hotel has confirmed plans to open in the historic United Artists Theater on Broadway.
The hotel chain's plan calls for 180 rooms in the former office building's 13 floors, and it will include a 1,600-seat entertainment venue in the structure's namesake theater. The plan also calls for a pool, restaurant and bar in the edifice that has not been fully activated in decades, according to the office of 14th District Councilman José Huizar.
The Broadway landmark had long been owned by the University Cathedral, a congregation made famous by its late founding pastor, Dr. Gene Scott. The church has maintained the building, which was built in 1927 by United Artists founders D.W. Griffith, Charlie Chaplin, Douglas Fairbanks and Mary Pickford.
The building was the tallest privately owned building in Los Angeles until 1956, Huizar's office said.
King & Grove Coming to LA, Possibly with Two Hotels
Lanyard key chains at Ruschmeyer's, a King & Grove Hotel in Montauk.
—
Downtown LA blog Brigham Yen found out earlier this month that indeed King & Grove would open up inside the old Hotel Clark near 4th and Hill Streets in downtown's Historic Core district (and just a few blocks away from the intended Ace Hotel.) A rep for King & Grove confirmed the scoop but was not able to release any further details. Still, Brigham Yen had noticed some renovations going on at the hotel including a new pool deck and some new orange curtains.
But one hotel might not be enough for King & Grove as the blog now says that the old Trinity Auditorium at 9th and Grand Ave in downtown could possibly be a second King & Grove hotel as well.
Breaking News: Hotel Clark to be Reborn as King & Grove Hotel in Downtown LA
Aviary molecular cocktail lounge from Chicago will be expanding to LA

Macao Trading Co. is one of New York City's most fun bar.restaurants that is coming to LA
"Bagatelle has long been a St. Tropez-infused phenomenon in New York, feeding the city's elite for years. Now emerging hospitality group Brand Essence and industry leaders The ONE Group will bring Bagatelle's legendary dining experience to the West Coast with a multi-room indoor/outdoor establishment located in the heart of West Hollywood. Created by design firm Studio BRASA, the 2,700 square foot restaurant's motif resembles the salon of the Parisian apartment of an international jet setter. Bagatelle's patrons will be treated to seasonal, French-Mediterranean menu offerings by Chef Scott Quinn, whose inspiration and experience are sure to provide a lively and fine dining experience for L.A.'s globetrotters, foodies, celebrities and tastemakers."
=========
2011-2012
A decade ago Los Angeles seemed unconcerned with the new American phenomenon of artisan and craft beer bars, Belgian beer bars, artisan cocktail bars, adventurous upscale dining. It was only six years ago that the Los Angeles Times ran articles where local restaurants said there were only 500 serious diners in LA, and that group moved from new restaurant to new restaurant, causing the recently hot place to go under. The same newspaper chronicled the rise into the heavens of the new Las Vegas restaurant scene,  while slamming much the restaurant scene here at the time. Las Vegas,which is no doubt the most stellar today in the West at the uppermost levels of dining, as it now offers a dazzling array of European and America Michelin starred chef driven dining destinations, seems to have educated the palates of Angelinos as to the degrees of playful elegance that a truly global restaurant could offer its guests. Perhaps because of this influence of the Los Angeles palate, a new world of exceptionally good restaurants is now in Los Angeles as never before. Over the past couple years LA has gained authentic Noodle Bars from Tokyo, high-end steak houses and Italian eateries from New York, and finally we in LA now have several of the most coveted cocktail and beer bars in America, with several more planned, including one by a LA entrepreneur who promises to bring to LA a bar that he considers the best in the world. Los Angeles of course has benefited tremendously from the New York cocktail world expanding into the warm weather climate without a beach of downtown Los Angeles. I have to say that this is the first time I have been as excited about going out in LA to a great new bar or restaurant, as verses planning on have a phenomenal time in San Francisco and spending quiet evenings in LA to rest up for another trip to a mecca for entertainment like Miami Beach or New York City.
So here now refer to you some of my choices for the best of the new Los Angeles, 2011.
(Please note that this post will grow throughout 2011)
Total Wine and More has raised the everyday experience of buying beer, wine and spirits in LA/Orange County region. It has to be the case that the emergence of artisan and craft beer bars and haute cocktail lounges in Los Angeles over the past two years is the reason Total Wine and More saw there was a market in LA for their level of shopper. The largest store is in Tustin, at 50,000 square feet, yet even the Northridge store blows away every other place in town, from variety to price. Total Wine carries all the truly deluxe bottles of tequila, and has $2,000 gorgeous bottles of wine. The store has several hundred kinds of artisan and craft beer, possibly as much as the incredible Berkeley Bowl gourmet low-priced – yes – it's true! supermarket in Berkeley, California, where we make twice a year trips just to shop and bring home countless provisions not available to us here in LA. When people here first visit Total Wine and More they start calling their friends and telling them they've got to get over there now!  Total Wine and More has in store ads saying they are crushing another beverage store here, from the handsome look of Total Wine as compared to the LA low rent warehouse way of selling product, to astounding variety, to pricing that blows the competition away.
In the coming months watch for several new craft beer bars in LA, including Beer Belly in Koreatown, Mohawk, a 10,000 square foot bar in Echo Park, and Smith House, in Century City (West LA), which will have 120 beers on tap. Steingarten has opened in West Los Angeles. The LATimes reports that the Houston brothers will also be opening a German beer hall in LA.
LOS ANGELES:Mohawk Bend
"The second venture from owner Tony Yanow and manager Paige Reilly of Tony's Darts Away fame, Mohawk Bend debuts in April in newly hipsterized Echo Park. The 10,000-square-foot facility is an ode to beer and farm-fresh California cuisine, with half of the menu (and the kitchen) dedicated to vegan fare. (But don't expect a pushy, green-fiend staff; "We like to open the vegan door but not push anyone through it," says Yanow.) For herbivores, there's mochi-crust pizza; meat-lovers will relish the duck-pork Dork Burger. Every palate will savor the whopping 72 taps—including five nitro faucets and two hand pumps—pouring strictly Cali brews, like house favorites Hangar 24 Orange Wheat. 2141 Sunset Blvd." (Draft magazine)
"Those who want ready-to-go ice for their cocktail should reach for Névé ice (available at Barkeeper in Silver Lake). Founded by former barman Michael Dozois of Seven Grand, Névé delivers perfect Collins and Rocks Glass cubes to consumers and bars anywhere in the United States." (Seven Grand is also one of Cedd Moses' collection of high quality LA bars.)"
Wood and Vine, Hollywood
Bar concepts
Only about a decade after the Belgian beer bar boom happened in New York and San Francisco, downtown Los Angeles will finally be getting an authentic Belgian beer bar called Little Bear. Royal Clayton's was in this space during the time that Walter Manske manned the stoves at across the street Church & State, which while he was there was the most sensation restaurant in Los Angeles. The bar will feature L.A.'s first certified beer cicerone. Chicago has three and also has a full on 3 tier cicerone training program that is providing core educations to hundreds of first tier Chicago bar helpers. (10.21.11)
New York's new gin palace will be fancier than this one.
"Ravi DeRossi, co-owner of an East Village mini-empire that includes Desnuda, Mayahuel, Cienfuegos, and Death & Co., is opening a new spot called Gin Palace, a spin on the original Victorian dive bars.
Gin Palace will be an upscale spin on the louche enterprises where Victorians boozed up. It will focus on gin, with a majority of cocktails made with the spirit. As for food, DeRossi says that he'll offer "hundreds" of kinds of tea sandwiches, served on three-tiered silver platters."
Legendary New York barmen Alex Day and David Kaplan, of Death & Co. bar NYC, have plans to open either an LA Death  Co. or another establishment or both. They are already in Los Angeles, reconfiguring cocktail programs across the city.
By summer LA will have two authentic currywursts that will be open late for the all night party crowd.

Restaurants
The Daily Truffle reports that "Michael Ovitz will open Ink (with Michael Voltaggio of Top Chef) is his old restaurant space which housed Hamasaku."
There are also reports that Thomas Keller will open his Ad Hoc restaurant in Los Angeles.
Bastide veteran Paul Shoemaker (the greatest restaurant contemporary LA's histor with multiple star chefs) has announced plans to open an artisan pizza parlor and craft beer bar that promises to be "Father's Office meets Pizzeria Biano in Phoenix"
The owners of Rustic Canyon and Huckleberry – perhaps LA's best breakfast, certainly it is awesome! is opening an artisan pizza parlor and bakery in Santa Monica later this year. So of a sudden the West Side will have a real artisan pizza scene.
This coming July 2011, on Venice, California's Abbott Kinney boulevard, already one of the hottest scenes in all of Los Angeles, Local 1205, a 3,500 square foot gourmet market. I spoke to my partner about how we in LA are not getting true gourmet food encounters like never, yet we still have miles to go before we catch up to San Francisco and the Bay area, whose restaurant, pizza and artisan cocktail bar scene is on fire. It will really be really nice to not have to go up Northern Cali to get some satisfaction.
"His partner is Steve Carlin, founder of the Bay Area's Oakville Grocery and Napa's Oxbow Market, and project manager of SF's Ferry Building Marketplace and the recent organic market addition in the city's airport." (The Feast)
a nearly 24-hour emporium that combines retail and sit-down eat-in options. The 3500-square-foot space will have sidewalk seating, a juice bar, a patio, a raw bar, and will be similar to Dean and Deluca and other famed gourmet Bay area/New York City food emporiums.
"The food will be half organic/Slow Food movement, half rich, luxurious, snotty food"—by which he means oysters, caviar and foie gras. Smoked fish, bagels, charcuterie, cheese, Portuguese-style pizza, sandwiches, rotisserie meats, frozen custard, and flowers will also be on offer." (The Feast)
Local 1205 will be at 1205 Abbot Kinney Boulevard, and will be open daily from 7 a.m. – 4 a.m.  [The Feast]"
Ken Friedman, co-owner of New York's West Village (with April Bloomfield), Michelin starred British gastropub The Spotted Pig, has promised his Mom who lives in San Diego that he will be opening a major seafood restaurant in LA by the end of the year. My partner and I fell in love with his white-hot restaurant in the Ace Hotel in New York City, The Breslin, which is named after the original name of the building that  too cool The Ace Hotel now resides in. The hotel features a Stumptown Coffee café and a new seafood dream of a restaurant  called The John Dory. I have covered this in another blog post about a trip to New York. By the way – the best slice of pizza I've ever tasted was a smoked black olive pizza that my daughter ordered at Pulino's, which is a recently opened a Friedman establishment on The Bowery. As it turns out, Mario Batali's restaurant group is also partnered in with Friedman and Bloomfield, which may explain why Friedman is expanding to Los Angeles at this time.
In a November 2007 New York Observer interview, Friedman said this about gastropubs: "Pub means public house. In England, it was where the poor people went, and the animal hanging outside the door [as it does at the Spotted Pig, in place of an actual sign] was because they couldn't read. It was literally, 'Meet me at the pig at eight!'
Friedman said this about his Los Angeles plans: "For some strange reason there are very few seafood places here even though we're on the ocean. We're at a certain point where we can open restaurants in places we want to be, like London or San Francisco or L.A.. "  (Paper magazine, April 2011)
Friedman also recently noted that Los Angeles is on the ocean, it seems to not be engaged in eating from the sea. Many others have observed this, but may not take into account the orgy of sushi bars in LA, that are part of growing LA's fixation of Japanese products, from cars to sushi bars and now to robata bars and beyond.
GOURMET SANDWICH SHOPS
Michael Voltaggio's ink.sack
NEW DOWNTOWN LOS ANGELES RESTAURANTS IN THE WORKS (AS OF9.9.2011)
The Factory Place Arts complex will be expanded with 8,00 sq. ft. 140 seat restaurant space in a 1920's warehouse called Republique that will be home to former Bastide Chef Walter Manzke. The bistronomy inspired Republique restaurant will have a curated good and full baking department via his  wife, called the Factory Baking Co. The Los Angeles Times reported on August 22, 2011 that "The Manzkes took several Paris trips that included visits to restaurants such as Le Comptoir, Chateaubriand, Spring, Frenchie and Chez Dumonet."
I went to The Tasting Kitchen for my birthday earlier this year. Both it and the next door Gjelina are two of my top special occasion restaurants in LA (actually on ultra cool Abbott Kinney in Venice Beach). So when I read that The Tasting Kitchen was opening what they are describing as "a true gastropub" – this got my attention on the spot and it will soon be on my dining calendar. Scheduled to open at the end of 2011. The Tasting Kitchen's crew is from Portland. They ran the best restaurant in the city when they were in town, called Clark & Lewis. When their newest venture opens, it will mark the warehouse arts district downtown Los Angeles as a major new dining hotspot of LA.
NEW LOS ANGELES NOODLE BARS
From Chicago's Bill Kim we have a noodle bar concept called Belly Pop that will open in downtown Los Angeles. Kim's Belly Shack in Chicago was  food world sensation when it opened, and has since garnered a Michelin Bib Gourmand award. Studio City has already been blessed with Ramen Jinya, an authentic noodle bar from Japan, which itself has expanded to the  Japanese restaurants district of Sawtelle avenue in West LA, but this one has a liquor license. Nearby yet another direct from Japan noodle bar import has opened, called Tsujita LA Artisan Noodle. It is part of a Tokyo based chain and is the first U.S. location.
los angeles: tsujita restaurant opening
© tsujita – artisan noodles anyone? (photos by Superfuture magazine online)
"if your craving for good noodles is as regular as ours, and you live in los angeles…lucky you! artisan noodle restaurant tsujita hails from tokyo and has just opened a rather spectacular new branch in california, the first one stateside. designed in a clean contemporary yet japanese style, tsujita's most striking interior feature is an intricately designed ceiling installation of sorts.
crafted by japanese designer takeshi sano, it's poetically inspired by clouds surrounding izumo shrine in japan's shimane prefecture, using 25,000 drum stick-shaped wooden sticks. obviously tsujita serves noodles or ramen, but also a wide range of typically tokyo-style japanese fusion food. you just have to drop by and taste it yourself. location: 2057 sawtelle boulevard [west los angeles]." Superfuture magazine online
GOURMET BUTCHER SHOPS AND GOURMET EMPORIUMS
"Why did you choose L.A. for Lindy & Grundy?
Erika: Amelia is born and raised in Los Angeles, so we would come visit her family here a lot, and we saw that there was a great need for a whole animal, sustainable butcher shop. We try to source as close to L.A. as possible. Everything other than our lamb comes from a 150-mile radius of our butcher shop." from Cool Hunting's interview of Lindy & Grundy."
The news of the year in food for Los Angeles is that the world's largest Italian gourmet food emporium, Eataly, will be opening in LA, in the Fairfax district. Eataly has several eating stations, and will be making fresh pasta daily. There will be an astounding array of prepared meats, wonderful rustic breads, and so much more. The NYC Eataly opened last fall. It has a free-standing restaurant that is mobbed. It is about to open its 4 part craft beer bar on the roof of its building on at 24th street and 5th avenue in Manhattan. It will be amazing to watch LA go from having none of the major gourmet markets to having one of the top places on earth. There are already three Eataly locations in Japan, and five in Italy.  Perhaps now we'll also get a Berkeley Bowl supermarket from Northern California, which would be a dream.
Performing Arts venues arts
In 2011 several new performing arts venues opened or broke ground in Los Angeles. Already the performing arts scene is more dynamic than ever, with several major events happening in a single month, so much so that LA now has a dedicated Dance Calendar. In the past two years alone I've seen Pina Bausch Dance Wuppertal, the Berlin Phiharmonic, the Munich Symphony, Kidd Pivot Frankfurt dance company, the Wooster Group at Redcat Disney (three different tremendous experimental theater plays!), and a lot more. With these new venues LA will be able to have wall to wall performances.
Artworld
3.21.11
New York's Perry Rubenstein gallery has announced that it will relocate to LA into a 7,500 sq. ft space in fall 2011.
"I'm bringing to Los Angeles the perspective of someone who has lived and worked his entire life on the Atlantic seaboard," says Rubenstein. "Los Angeles is a new center. It looks today the way New York looked compared to Paris after the war."
Rubenstein is one of many New York art world personalities who is convinced that Los Angeles is post-war New York City. This is of course the time when NYC overtook the 300 year old Paris artworld  and became the new center of Western world international art. What is interesting is that NYC has been talking about LA for over 60 years, first as a no place, then a place with potential that always seemed to fizz out. Now it is being seen for the first time as THE PLACE WHERE CONTEMPORARY ART COMES FROM IN AMERICA.
In 2011 LA's first art parade will tale place in downtown LA, courtesy of West of Rome, the LA nonprofit visual arts presenter.
LA really separated itself from the rest of the West Coast in 2011 with recent announcements of their being the first LA Biennale in 2012. Yet the major news is in 2011, with LA finally getting a layer of its own art history on paper, with the 50 some exhibitions planned that open as early as late September 2011. The major shows will be at the Getty and MoCA, with several other equally significant but smaller group shows throughout Southern California in 2011 and 2012. In the fall of 2011 LA gets the first West Coast version of the Armory Show with Art Platform Los Angeles. The Pulse Fair of Miami and NYC is also expanding to LA and will put on a huge exhibition during the same time as Art Platform Los Angeles. There are also more powerful artist run spaces in Los Angeles than at any time in its history. These spaces are serving as both project spaces for artists yet serving as commercial galleries but without the backroom storage. They are promoting the artists they show to an international audience that now visits LA monthly, as LA is now unquestionably one of the most important centers of art production and exhibition in the worl
May 2011:
London based contemporary art collector and curator Kay Saatchi moves to Los Angeles to be at the forefront of the new LA art scene. Over the next month more press reveals her plans to create major exhibitions of LA art, which she also will be collecting.
6.20.11
The Swiss/US based HUB Foundation announces an exciting new exhibition program in Los Angeles that will use multiple venues in winter 2012. (from the Artnewspaper, London)
LA Art collector Dean Valentine launches Bowmont Art, in 7,000 square feet of space at the Pacific Design Center in West Hollywood. Initial plans are to showcase his collection, and to have performances, talks and other programming.