Although everyone's favorite dissident Ai Weiwei steals most of the headlines, China is home to an explosive contemporary art scene. Though as diverse as its billion-strong population, contemporary Chinese artists often grapple with convergence and upheaval, exploring the intersection of tradition and technology, Communism and Capitalism, and Eastern and Western styles. Here are the ten most popular on Artsy.
10. Zhu Jinshi: Influenced by German Expressionism (and a co-founder of the avant-garde Stars group along with Ai), Zhu produces abstract paintings whose surfaces are built up with thick, near-sculptural layers of oil paint.
9. Zhang Xiaogang: Best known for his "Bloodlines: The Big Family" series of the 1990s, Zhang draws on memory to paint portraits that fuse his personal history with the legacy of the Cultural Revolution.
8. Li Shan: A founding member of Political Pop, Li is best known for his Warholian portraits of Chairman Mao from the 1990s, as well as his more recent "biological art"—semi-abstract images of plants and animals.
7. Yang Fudong: A pioneering filmmaker known for his dreamy, ambiguous films, Yang also photographs staged tableaux that carry his signature surrealistic aesthetic.
6. Mao Yan: In his luminous, soft-toned oil portraits, Mao uses as few brushstrokes as possible in an effort to capture an essence rather than likeness. "Excessive attention to representation could only lead to narrow-mindedness," he has said.
5. Xu Zhen: No stranger to controversy, Xu is notorious for The Starving of Sudan, a live tableau he constructed in a gallery that featured a live African toddler and a mechanized vulture. In more recent works he has explored Japanese BDSM culture.
4. Yue Minjun: Influenced early on by Surrealism, Yue is best known for inserting himself into canonical works from art history via grotesquely grinning, vibrantly exaggerated self-portraits.
3. Liu Xiaodong: Strongly influenced by Lucien Freud, Liu paints his intimate portraits spontaneously from snapshots of friends, family, and everyday life.
2. Zhang Huan: Perhaps China's best-known conceptual artist, Zhang rose to prominence in the 1990s with his performances involving the masochistic treatment of his naked body. His works in sculpture and other mediums further explore his interest in the human form.
1. Zeng Fanzhi: Inspired by German Expressionism, world-renowned painter Zeng explores alienation and isolation through his references to historical figures and dark aspects of humanity (as in his famous "Meat" series), often rendered in grotesque exaggeration.
Hayward Gallery, Southbank Centre, Belvedere Road London SE1 8XX,  27 Sep 2012
Art of Change
---
Art of Change
Review by Rebecca Newell
Since Ai Wei Wei's detainment in 2011, the international arts community has been looking for a way to understand better the spirit of dissent and antagonistic non-traditionalism that seems to characterise contemporary Chinese art. In an attempt to locate these strands in a shifting socio-political climate, the Hayward Gallery and the Southbank Centre, ever keen to engage with transience and change in their artistic programme (I'm thinking here of the thematic festivals that form the backbone of the Centre's annual offering), have opened the first major exhibition to focus solely on contemporary performance and installation art from China.
Work from nine contemporary artists active in the last two decades is presented together, to consider themes of process and on-going transformation in both a site-specific and general way. Site-specificity plays out in works that alter in appearance over time, or are interactive, volatile and ephemeral: the first work to confront the viewer is Xu Zhen's 'Untitled' (2007), a selection of fitness machines that are operated by the viewer via an exertion-free remote control. Sun Yuan & Peng Yu's leaning tower of human fat – 'Civilisation Pillar' (2001) – is constructed from siphoned-off fat, extracted during liposuction treatments. Liang Shaohi's beautifully woven web constructions are co-authored by silk worms. Materially speaking, the space is unsound: a conservator's nightmare.
But the work is profound and says something more general: vanity, and the nature and passage of time are not small artistic preoccupations. In fact, they are amongst the most trumpeted of the more familiar Western art-historical themes. Elsewhere, the works confront notions of wakefulness and sleep, the creative process and the participatory role of the art viewer. Even Zhen's redundant gym equipment seems to address 'wei wu wei', or 'action without action', a fundamental principle in proverbial Chinese discourse, but it could easily be seen as commentary on the something-for-nothing culture we hear so much about.
Of the nine presented, most of the artists here are looking for new ways to express themselves as well as reconfigure materials and themes. It is obviously not irrelevant that China is a country undergoing dramatic transformation, and artists, as others, have been deeply affected by such change. The mid-1980s and 1990s brought with it a State rejection of much experimental art, and many of the avant-garde set that had been at the helm of a previously more open and progressive Chinese art scene left the country. For the Chinese contemporary artist that remained, it mattered less what the work looked like in the end, and more if and how they might get to finish a project. MadeIn Company, a creative corporation established by Xu Zhen, is a collective of artists, technicians and administrators that still operates in this way, embracing process and project over finish and presentation. The corporation is represented in the Hayward show by several on-going artworks. In 'Revolution Castings' (2012) concrete 'memorials' are cast on site and include contributions by visitors to the gallery. The on-going creation of an artwork is then the whole creative output, meaning the work deftly sidesteps the traditional mechanisms of both critique and the art market.
A middle space of three sleeping performers, for works entitled 'Sleeping' 'In Between' and 'Patience' (2004/2012), surprises. Each scenario involves interaction between the body, and white shelving fixed to the gallery walls. The artist, Yingmei Duan, explains that her concepts explore the fleeting visions experienced in the gap between wake and sleep, and that 'sleep brings me many of my creative ideas'. The work seems to explore another threshold: that between socio-cultural acceptance and marginalisation. It could perhaps also be applied to the margin between comfort and discomfort in the viewer as they encounter a dreamscape slap bang in the middle of the contemporary gallery space.
The best work in the exhibition is Xu Zhen's illusory 'In Just a Blink of an Eye' (2005/2012), the striking image of which is used for press and publicity materials produced by the Southbank for the show. In it, a person, dressed in what can be described as contemporary urban attire (all parka, tracksuit and canvas high-tops), appears suspended in mid-fall, no strings, no wires, no anything. Faced with this odd and transfixing work, social vanities and failings resound, and though they are often seen in a Western framework, they are here posed as an Eastern question. 'The Starving of Sudan' (2008), nearby, poses altogether different, and serious, questions about moral decline, human exploitation and the limits of voyeurism in the art gallery.
An interactive digital archive forms an axis for this exhibition, available for browsing or for in-depth study. Structured around a sequence of some 130 key events, exhibitions and performances, it aims to anchor contemporary Chinese art in a sweep of other cultural development and a broader context of artistic production. If a major aim of the curators of this show is to reposition such production in a framework that is understandable, rather than unintelligibly rooted in something 'other', for Western gallery goers, it does put the viewer back in control. As Xu Zhen points out, 'people have to decide where they stand'.
The Garden of Memory
by Brice Pedroletti March 15, 2011
It happened a long time ago, so we may have forgotten. The United States was initially cool towards France's gift of the Statue of Liberty as a symbol of friendship between the two countries. In time, of course, "Miss Liberty" would become one of the icons of the American dream, the veritable symbol of that country of "all possibilities", including free speech. Today, 125 years later, would China accept the gift of a Statue of Liberty after it destroyed the Tiananmen Statue of Democracy? A Chinese artist, newly released from prison, has offered his country two. As Brice Pedroletti reports from Beijing…
At the foot of a public housing building in the northern suburbs of Beijing, a sign announces the "Garden of Steel Roses". To enter, you must squeeze between the fence and the wall of the building to reach a small space in front of a flat on the ground floor. Two giant busts stand on their bases. The first is of Lin Zhao. In the late 1950s, Lin protested in writing against the abuses of the anti-rights campaign, submitting a petition to the Great Helmsman himself in support of Peng Dehuai. (Peng, a plain-spoken Marshall of the People's Liberation Army, had been imprisoned for criticizing the Great Leap Forward.) Lin Zhao's protest earned the young woman a 20-year prison sentence in October 1960. On April 29, 1968, at the age 36, she was executed and her body was never found. The second bust is that of another young woman, Zhang Zhixin, executed in 1975 at the age of 40, another denouncer of Maoism. Both fervent Communists, the two women persisted in their criticism of Mao from their prison cells and to their last moments.
The painter Yan Zhengxue, 66, created this strange sculpture garden upon his own release from prison in late 2009. He sculpted, in his tiny apartment and in secret, these two statues of liberty based on photographs and testimonials from people who had known the women. The work was both therapy and tribute, Yan Zhengxue says. "I told myself that I was lucky to have survived. They were not," he explains, sitting in his small living room, the walls covered with paintings in black ink. In 2006, Yan Zhengxue was sentenced to three years in prison for subversion. His crime: helping peasants of his native region, Zhejiang, near Taizhou, defend their land rights. It was not the first time that Yan had been locked up. To be exact, it was the 13th. In 1995, he had been sentenced to three years in a re-education camp for launching a lawsuit against Public Safety, which he turned into "performance art". At the time, Yan Zhengxue was head of Yuanmingyuan Village, Beijing's first artists' community, which the authorities wanted to evacuate. The case caused an uproar in the Chinese media with cultural and artistic figures signing petitions in his support. Deported to the far north, Yan was tortured with electric prods by prison guards and seriously injured.
When he was arrested again in 2006, he warned the police that he would rather commit suicide than return to prison. Suicide would be "my final art performance," he said, but the provincial authorities were unmoved. From his cell, Yan Zhengxue began writing the story of his life. A cell mate, a common criminal, helped smuggle out the manuscripts, tiny rolls of paper inserted into soap. "At the time, I thought that both the actions I had taken to defend human rights throughout my life and my artistic activity had come to an end. The curtain had fallen. The democracy movement in China was being torn apart by its differences. It was the war between the 'sheep' – moderates who advocated cooperation with the authoritiesand the 'goats' – advocates of a more active defence of rights, like the lawyer Gao Zhisheng, and the activists Guo Feixiong and Hu Jia (all imprisoned for their commitment to defending human rights). I considered myself as part of the 'goat' camp."
Having completed his autobiography, "The (Art) Performance is Over", Yan tried to put his suicide plan into action but failed. In any case, "Given my condition, doctors said that I had three months to live," he says. The book manages to make its way to Hong Kong and is published by Sibixiang Editions. Upon Yan's release in 2009, his publisher encourages him to do a project on Lin Zhao. Yan Zhengxue begins work on the sculptures of the two women who were less fortunate than himself. The creation of the statues is phantasmagoric. In January 2010, the convalescent painter goes to work in a small room of his apartment in Beijing. When the police make their rounds, Yan's wife, also an artist, does calligraphy in the doorway to the room. "They suspected that I was creating something, but they didn't know what or where," says Yan Zhengxue. "They never imagined that such large statues could be hidden in a small room." The moulds are taken in secret to a foundry in Hebei. The statues are set in Yan's garden, as the district authorities forbid their transport for exhibition. The authorities regularly ask Yann to put the statues inside his apartment, but he holds firm. "I said that my apartment was too small. Then they asked me to put bed-sheets over them. I said that it would be disrespectful. Then they demanded clear plastic. I had to accept," he says. On April 29, the anniversary of the death of Lin Zhao, visitors, on hand to honour her, tear off the plastic covers.
Since then, many people regularly visit the Garden of Steel Roses, including activists and figures of the pro-democracy movement. Given the heightened surveillance in this season of the Nobel Prize ceremony, the commemoration of Lin Zhao's birthday on December 12 was scheduled for three days earlier. But Yan Zhengxue is picked up at dawn by agents, and carried around all day in their car. His dozen guests are not worried. For Lin Zhao has become an icon of the democracy movement, saved from the dustbin of history by the director Hu Jie's 2004 documentary film, "Searching for Lin Zhao's Soul" wherein were revealed the secret letters, written in Lin's own blood, to the man she loved.
The case of Zhang Zhixin, another executed young woman, has been made part of official propaganda. The Chinese government has "turned her into a martyr: through her example we repudiate the Cultural Revolution and non-Maoism" writes the historian Youqin Wang, a specialist in the Cultural Revolution at the University of Chicago. Yan Zhengxue's project to donate the two statues of the young women to their alma maters, Peking University and Renmin University, is blocked, despite broad support within the two prestigious institutions. For the artist, the ghost of Maoism acts like a black sun. "The black sun absorbs the light. That's what prevents the Chinese from getting democracy," he says. A black sun sculpture hangs on the wall next to the statues. Yan also puts black suns in his paintings.
In 1965, while still an art student, Yan Zhengxue, quickly perceived the darkening atmosphere as the Cultural Revolution began. "We only had the right to paint cadavers," he recalls. "Posing models was denounced as bourgeois." The young man took to his heels, wandering to the far reaches of western China. He found himself in Xinjiang, in a collective farm where he began painting nature and animals. Noticing Yan's talent, the director of the farm asks him to make a few portraits of Mao. As a reward, the painter is allowed to bring out his girlfriend and marry her. But the Cultural Revolution soon arrives as well. In 1968, the couple is in Lanzhou, in nearby Gansu. Yan receives the order to paint an eight-meter-tall portrait of Mao on the facade of the city's civil aviation office. City managers have fled to this office, trying to escape the harassment of the Red Guards
Some of them criticize the profile of the great leader that Yan Zhengxue, perched on his scaffold, has begun to paint. An argument breaks out. The painter explains that he cannot start over, as he would have to cover Mao's face with white paint. At this point, one of the Guards notices a cross that Yan has drawn on his drawing as a guide for reproducing it to scale. Yan Zhengxue is accused of being contra-revolutionary and arrested. He thinks it is a joke, but the flood of prisoners suggests otherwise. A peasant who carried a bust of Mao on a yoke. A Hong Kong man accused of homosexuality. A child who made a paper bird from a picture of Mao. Yan and the child escape summary execution. The interrogating officer confirms Yan's story and orders his release. The artist later learns that a five-percent quota of executions had been set for the city. In this same year, 1965, Lin Zhao, who is languishing in a prison in Shanghai, is killed by a bullet in the head.
© 2010 le Monde. This report was re-edited by the author for The Global Journal
==
ARTIST ZHENG FANZHI
ANOTHER MAGAZINE
Zeng Fanzhi
Conversations with leading cultural figures
— November 28, 2012 —
"And what do you benefit if you gain the whole world but lose your own soul?" In the contemporary art lexicon, most would seem to like to ask this question of the multi-millionaire Zeng Fanzhi, an artist whose career began in 80s China…
"And what do you benefit if you gain the whole world but lose your own soul?" In the contemporary art lexicon, most would seem to like to ask this question of the multi-millionaire Zeng Fanzhi, an artist whose career began in China in the 1980s with unsettling and often politically charged paintings. In Britain, we have a tendency to distrust any artist who has had a lucrative career (we are, after all, the founders of the build-them-up-to-knock-them-down school), and after a certain point editors and journalists tend to prefer to discuss an artist's material wealth and lifestyle, rather than their creative output. However, it would be grossly unfair to take such a tawdry view of Zeng, whose current exhibition at Gagosian Britannia Street – his first on these shores – deals with mortality, sacrifice and reflection, proving beyond a doubt that he is not an artist in danger of selling his soul. Taking as its source material the story of Albrecht Dürer's brother sacrificing his own artistic ambitions to allow Albrecht to go to school and learn to paint (the hard physical toil he undertook causing him to suffer arthritis in his hands), the show exhibits huge, fascinatingly detailed homages to Dürer – hands locked in prayer, an old man in deep contemplative meditation – and endlessly complex spider-like scenes of dense woodland, through which distant glimmers of light shine. AnOther took some time to talk to the strikingly composed, modest and self-effacing artist to find out why, despite his well-documented wealth, it is a simple, Buddhist-like spiritual communication he seeks to have with the world through his art production.
What concerns have carried through your career – what has remained the same and what is fundamentally different now?
I think what remains unchanged is my pursuit of beauty.

What is your definition of beauty?
I think everyone has their own definition of beauty, but as far as I'm concerned beauty means staying true to what touches you, whatever moves you and whatever brings up your feelings and emotions – this is my definition of beauty. Also, beauty is not just about being beautiful, it is about being everlasting. I experience a forward mobility of my inner mind and my inner state while I'm making these paintings.
There is an intense complexity of line in these works, are you fascinated by the minutiae of the world?
I am always very fascinated by delicate and micro-aspects of the world, and usually when I discover the beauty of these aspects I will amplify and multiply the effects of what I see into the paintings. This is why I make such huge paintings. I want to exaggerate and underscore the beauty of these delicacies and these minor aspects. I believe that many artists are moved by the micro-aspects of the world and this is what inspires them.
"As far as I'm concerned, beauty means staying true to what touches you, whatever moves you and whatever brings up your feelings and emotions…"
Is there any specific thing from your youth you can remember that inspired you to paint?
I think I was influenced and inspired by many aspects but I couldn't name a specific one. It was through a gradual process that I found myself gifted in art and painting. When I was young, life was so tough that it was difficult to think about one's future. At the time, the most important thing was whether we could make ends meet and feed ourselves. I think before my 20s the most important thing to me was whether I could feed myself. Now, living in such a comfortable environment, I can, of course, discuss art, but it is still very difficult to do so – it is very difficult for me to talk about art. I'm better at communication with people and the world with my artwork than I am with language.
The lines in these works make me think of the lines on the palm, do you believe in predestination?
I believe more and more in the notion of fate and how what we call chance plays a role in that. I have begun to believe that there is a predestined life for everyone, and sometimes I feel like it is by fate that I was guided in a certain direction, instead of me choosing one direction initially and of my own volition. I believe that sometimes even though I make a plan there may be other changes that will overtake the plan completely – sometimes a very minor aspect can change the whole plan.

What is the most important thing for you in terms of your legacy? Do you think in terms of leaving a legacy as an artist?
Admittedly, all artists want their work to be immortal and everlasting, and I hope that my work can be appreciated when I'm deceased. I hope that when people look at my work they can find something new, and they can find something they wanted to see within the paintings; the things they are looking for. However, I think in terms of the word legacy, I would say it is important to leave a spiritual legacy to the world instead of a materialistic one.

How has fame affected you, and have the projections of 'the most important artist in the world' and so on made it more difficult to create art?
No. I am secluded from the world when I go to my workshop in Bejing, and as soon as I close the door and am in the workshop on my own, I feel secluded and am able to focus on my creation. If you ever come to Bejing and my workshop and have a chance to see how my life is lived, you will notice such a situation.
Zeng Fanzhi is at Gagosian, Britannia Street, until January 19 2013.
Text by John-Paul Pryor
John-Paul Pryor is European Editor at Flaunt Magazine, Editor-at-large at Port Magazine and Editor, Contributing Art Editor to AnOther Magazine and Art Director at Topman Generation. He writes for Flaunt, Dazed & Confused, Port,Tank, AnOther, Nowness and directs fashion shoots for Topman Generation. His debut novel Spectacles is out now.
---
Zeng Fanzhi
Dez 20, 2012
London
Zeng Fanzhi's aesthetic restlessness epitomizes the evolution of Chinese contemporary art in the post-1989 era, grappling with local history and tradition in the face of external influence and accelerated change. Since the beginning of his career, he has presented a succession of powerfully introspective subjects, from the haunting Hospital paintings to the visceral Meat paintings that juxtapose human subjects with butchered flesh; from the enigmatic Mask paintings to candid and startling close-up portraits; from intimate, existential still-lifes to depictions of pivotal Western cultural figures such as Francis Bacon, whose psychic portraits altered the status of the human figure in twentieth century art. Charged with an underlying psychological tension, Zeng's oeuvre reveals the place of the unconscious and the aberrant in the construction of human experience.
For the past decade, landscape has been a central focus of Zeng's art. In highly tactile scenes, the details of representation often overlap seamlessly with qualities of abstraction, as in certain traditional Chinese aesthetic objects. Zeng's fictitious place is at once luminous and bleak, where unearthly bursts of vivid color are trapped in snaking brambles that obstruct yet hold the gaze.
The artist says: "They are not real landscapes. They are rather about an experience of miao wu [marvellous revelation]. Miao wu constitutes a restless journey of discovery."
WERTICAL MAGAZIE
November 29th, 2012 – January 19th, 2013
6-24 Britannia Street
London WC1X 9JD
UK
==============================
ARTIST ZHANG HUAN
NEW YORK TIMES
A Hallucinatory Blaze, via Tibetan Ritual
Zhang Huan's Colorful Skull Paintings at the Pace Gallery
By BARBARA POLLACK
Published: September 12, 2013
Damien Hirst once encrusted a skull with diamonds, and Takashi Murakami has turned out canvases with cartoon versions of skulls. But when the artist Zhang Huan addresses similar iconography, he creates paintings in a style all their own. Sitting in his Shanghai studio one day recently amid dozens of Tibetan death masks, he was busy preparing for the opening on Friday of "Poppy Fields," an exhibition of new works at the Pace Gallery in Chelsea.
Chuck Close, courtesy Pace Gallery
The artist Zhang Huan.
Zhang Huan Studio, courtesy Pace Gallery
"½ (Meat + Text)," a chromogenic color print from 1998.
"Poppy Fields" is a fresh direction for an artist whose studio is much like a factory, with over 100 assistants churning out monumental copper sculptures of Buddhas, paintings made of ash collected at temples, doors carved with scenes from the Cultural Revolution, stainless-steel pandas, stuffed cows and horses and, on one occasion, a version of a Handel opera. His notion is that he can produce anything he imagines without regard for consistency.
"Unlike Western masters, who will stick with one style their entire life until they reach maturity, I am in a constant state of transformation," said Mr. Zhang, interviewed via Skype with the aid of a translator. "I am constantly abandoning old things for new ones, but there is always a thread behind these changes, and that is my DNA."
His latest transformation may be the biggest one to date: turning himself into an oil painter with a keen sense of color after a career that has so far been mostly black, white and gray. The new "Poppy Field" works are a striking departure, for example, from those shown in a retrospective at Asia Society in 2007, two years after he moved back to China after almost a decade in New York.
In the new paintings, the canvas's surface is covered with hundreds of skulls modeled after Tibetan masks that look like grinning faces with bulging eyes and Cheshire cat smiles. From a distance, the canvases blur into misty fields of color, in white, pink and blue in one instance, and black, red and gold in another. Yet up close, you can see each face in the crowd, as if zooming into a packed stadium from outer space. "The paintings represent the hallucination of happiness and the hallucination of fear and loneliness in this life as well as the hallucination of happiness in the next life," Mr. Zhang said.
Asked about his bright hues, he said, "If there's no color in your hallucination, it won't be heaven. It would be hell."
Arne Glimcher, Pace's founder, recalls a conversation two years ago in which Mr. Zhang told him that he was working on oil paintings. "I thought it was such a conventional medium for him," he said. "But he told me, 'I will make oil paintings that look different from any other oil paintings.' "
It was nearly as big a surprise as when Mr. Glimcher first visited the artist's Shanghai studio in 2006. Mr. Zhang was primarily known then for his visceral performances of the late 1990s, first in the bohemian enclave of Beijing East Village and later, in museums around the United States. (One of his better-known works required him to sit motionless in a public latrine for 10 hours, covered in fish oil and honey, as flies gathered on his body.)
Mr. Glimcher was astounded to discover the scale of Mr. Zhang's production line in a studio teeming with sculptures, paintings and installations. This time around, he was equally surprised that the artist could pull off the new paintings with minimal support from his assistants.
According to the dealer, Mr. Zhang started each work by creating a computer drawing, planning out the placement of each mask. Given that approach, the paintings look remarkably spontaneous, as if they had evolved organically.
Buddhism and death rituals have been abiding subjects for Mr. Zhang, who was ordained as a Buddhist monk eight years ago. During the antireligious oppression of the Cultural Revolution, Mr. Zhang, born in 1965, remembers watching his grandmother go to the temple and burn incense before a statue of a Buddha. In his adulthood, he went regularly to temples; even after moving to New York in 1998, he studied every weekend with the venerated monk Sheng Yen at the Dharma Drum Mountain Center in Queens and later donated statues to the Chuang Yen Monastery, designed by I. M. Pei, in Kent, N.Y.
In her catalog essay for "Altered States," the 2007 retrospective at Asia Society, Melissa Chiu, the museum's director, wrote, "Zhang Huan's works from the past 15 years reflect one artist's search for an artistic voice, first in Beijing, then in New York, and finally in Shanghai."
Mr. Zhang has placed "a progressive emphasis on Chinese sources with which he finds great inspiration in the shared memory of symbols, stories, and materials of his homeland," she noted. Yet it is his embrace of Tibetan Buddhism, a rare choice in Chinese contemporary art, that distinguishes him from other artists.
In 2005, a trip to Tibet irrevocably altered Mr. Zhang's thinking and his art making. "One day in Lhasa, I got up at 4 a.m. and went to the Jokhang Temple, the biggest one in Tibet, and I saw men and women already lining up for miles," Mr. Zhang said. He said he was amazed by the sight of pilgrims crawling to the site in the middle of traffic, in a seeming clash between modernity and ancient tradition. "I have been to the most famous museums in the world, and I have never seen a sight as striking as this," he said.
He also witnessed the Tibetan Sky burial, in which a monk eviscerates the human corpse, leaving the flesh as food for vultures and smashing the bones into a grainy dust. The process is supposed to liberate the spirit from the body for peaceful transport into the next life. "Most people, when they see this ceremony, think it is gross and they cannot bear to watch," Mr. Zhang said. "But, when I watch the ceremony, I feel this hallucination of happiness, and I feel free."
He promises that at his death, the ritual will constitute his last performance piece.
Asked whether Americans would understand his "Poppy Field" paintings, Mr. Zhang said: "If they are alive, they will love these works. But if they are dead, they will buy them."
A version of this article appears in print on September 15, 2013, on page AR19 of the New York edition with the headline: A Hallucinatory Blaze, via Tibetan Ritual.
–
12M2, 1994, documentation of a 40-minute performance. In the height of midsummer heat, the artist covered himself in honey and fish oil and sat unmoving in a public latrine in Beijing's East Village, allowing swarms of flies to crawl all over his body.
TO RAISE THE WATER LEVEL IN A FISH POND, 1997, documentation of a performance, in which the artist and 40 participants stood in a pond to raise the water level by a meter.
FAMILY TREE, 2000, documentation of a performance staged in New York, in which three calligraphers wrote Chinese proverbs on the artist's face over the course of a day.
ART ASIA PACIFIC
Outside China, few artists are as synonymous with the rise of contemporary Chinese art as Zhang Huan. With his career having taken him from Anyang in his native Henan province to Beijing, New York and Shanghai—transforming him from a pessimistic iconoclast in the early 1990s to a
Newsweek
cover boy in 2004—and his practice ranging from oil painting to performance, photography, sculpture, installation and, most recently, set design, it is difficult to pin down consistent themes in his work. Though his career began with visceral performances staged in self-exile from the predominant trends of China's cultural institutions, his rise to fame coincided with commercial and geopolitical shifts that have softened the intensity of his approach.
Much of the writing about Zhang begins the narrative of his career with his involvement with the Beijing East Village artist community in the early 1990s, where he and a handful of other artists and poets collaborated on a short-lived flurry of challenging performances that have since become a storied chapter in China's history of contemporary art. Yet Zhang's beginnings as an artist had taken root before his arrival in the East Village. Born in 1965 into a family of workers, Zhang developed an early interest in the arts. He entered Henan University in 1984, where he was a classical enthusiast who identified with the romanticism of the 19th-century French painter Jean-François Millet, whose work depicts the life of peasant farmers; Zhang's admiration perhaps stemmed from his own rural upbringing. His graduation piece was a painting entitled Red Cherries (1988), which portrayed a mother peacefully nursing her baby next to a bowl of cherries. After concluding his studies, he remained at Henan University, teaching for four years in the art department.
Zhang arrived in Beijing in 1991 for a two-year program of advanced training at the Central Academy of Fine Arts (CAFA), one of the country's most prestigious institutions, whose program he was attracted to for its emphasis on European classical tradition. When he moved into Dashanzhuang—the ramshackle collection of some 65 farmhouses bordering a garbage dump that came to be known as the East Village two years later—there was very little in the fabric of his life that might have predicted the violence and masochism of the performance work that was to establish his career. In interviews, Zhang has described seeing Tseng Kwong-Chi's performance photographs—portraying the artist in famous sites all over the world—in the CAFA library, but that otherwise he had minimal contact with experimental art.
The genesis of Zhang's career as a performance artist can be traced to Weeping Angels (1993), his unannounced contribution to a showcase of advanced works by the 13 students in his CAFA class at the National Art Museum of China, all of whom had contributed to the exhibition hall's rental fee by pooling their meager finances. Five minutes before the exhibition's opening, Zhang stood on a white sheet laid at the venue's entrance, dressed only in his underwear, and poured a jar of red paint over his body. He then kneeled to pick up an assortment of plastic baby doll parts, which he reassembled into a complete child before heading into the exhibition hall where he tied the doll to a rope. Critics have interpreted the performance as a protest against various forms of state-inflicted violence, from forced abortions to the traumas of modern Chinese history. Zhang's intervention caused the museum staff to shut down the exhibition (although it should be noted that submissions from two fellow artists, Ma Baozhong and Wang Shihua, had been rejected before the opening), and earned him the indignation of his student peers, most of whom had little interest in experimental art.
Just a few days later, Zhang met and posed for Rong Rong, the Fujianese photographer whose documentation of and eventual collaboration with Zhang during his early performances have played an essential and often uncredited role in cementing Zhang's reputation. Like Zhang, Rong Rong had moved to Beijing from the provinces to pursue his craft, and in Dashanzhuang the burgeoning clique came to share a camaraderie born of the common squalor of their living conditions and a sense of exile, rejecting not only the mainstream but also Beijing's Yuanmingyuan artist colony, where other artists had taken up residence.
The East Village cast of characters quickly came to include Ai Weiwei, who had just returned to Beijing in 1993 after living in the United States for just over a decade. At the time, Ai's own practice was still emerging, yet to Zhang and the East Villagers, his interest in their work was immensely validating. Ai was admired for many reasons: for being the son of Ai Qing (1910–1996), the poet whose fame made him a household name in China; for his involvement with the Stars, widely considered the first avant-garde art collective in China; for his time in New York, where he hobnobbed with Chinese and American intelligentsia alike; and for his sage and contemplative poise. On June 2, 1994, Zhang performed 12m2, which remains perhaps the most iconic performance of his career. He would later describe it to Rong Rong as a tribute to Ai, who was made to clean filthy public toilets as a child during his father's exile in the western Xinjiang autonomous region.
Zhang's execution of 12m2 sparked off the string of performances for which the East Village is best known. The images that survive today are largely Rong Rong's documentation of the event, a performance for only a handful of people that has since become legendary: naked and slathered in honey and fish oil, Zhang sat stationary in a festering public latrine during the height of the Beijing summer, unflinching as flies flocked to his body. "The worst was watching flies trying to get into his ears," wrote Rong Rong, describing the stench and silence of the intervention. "All I could remember was the noise of the flies and the sound of the shutter lens. . . I felt that I couldn't breathe, it felt like the end of life."
Zhang's own statement of the event was later published in Ai Weiwei's agenda-setting avant-garde journal of contemporary art in China, Black Cover Book (1994). Edited with artist Xu Bing and curator Feng Boyi, the book featured Zhang's performance among a selection of others. "The creative inspiration for my work comes from the most ordinary, easily overlooked aspects of life," wrote Zhang. "For example, we eat, work, rest and shit everyday—the banal aspects of quotidian existence that allow us to observe the most essential aspects of humanity, and the conflicting relationships within our environment."
Most art-historical accounts of the performance include Zhang's emergence from the toilet, from where he walked into a nearby pond until fully submerged, the flies on his skin drowning on the water's surface—a powerful and cathartic gesture of closure. Yet Zhang's original statement detailing the specifics of the event does not include walking into the pond, and the water coda exists today only because Rong Rong's gaze followed.
Although separated from 12m2 by only a few days, Zhang's next performance, 65 KG (1994), articulated a shift from corporeal concerns to a more metaphysical confrontation with death. Naming the work after his own body weight, Zhang suspended himself with chains—naked and facing the floor—from the ceiling of an East Village home, where he had three doctors from a nearby hospital insert a plastic tube into one of his veins, allowing his blood to splatter and burn on a hot-plate on the ground below. In addition to the East Village artist community, a wider group of art critics and photojournalists had been invited. The visceral effect of the hour-long performance was overwhelming, the smell of burnt blood mingling with Zhang's dripping sweat caused several audience members to pass out.
Zhang performed 65 KG the same weekend as part two of Ma Liuming's Fen-Ma Liuming's Lunch. Ma began by cooking fish in front of an audience, but instead of eating it, he attached a long plastic hose to his penis, then sucked and blew through the other end. Both of these nude performances shocked what was otherwise a small community of migrant workers. The fallout from the weekend was severe, and the police arrested Ma and forced others, including Rong Rong and Zhang, to abandon their modest homes and go into hiding. A brutal anonymous attack the day before the 45th anniversary of the state on October 1 put Zhang in hospital with head injuries, and when the shaken East Village community re-emerged months later, its members settled in various locations across the city. But although this marked the end of the two-year existence of the East Village in its Dashanzhuang incarnation, the community grew as word of its experimental practices reached similarly invested ears elsewhere in Beijing.
ZHANG HUAN performing Pilgrimage: Wind and Water for "Inside Out: New Chinese Art," at P.S.1 Contemporary Art Center, New York, 1998.
MY NEW YORK, 2002, documentation of a performance, in which the artist wore a suit of raw meat and walked the streets of New York, handing white doves to onlookers.
Despite the setback, Zhang continued his confrontation of death in his contribution to the group performance Original Sound (1995), a collaboration between 12 artists—including Ma Liuming, Rong Rong, Cang Xin, Wang Shihua, Curse, Song Dong and Zhu Fadong—in which each contributed an individual performance in an attempt to embody primordial sounds. Zhang emerged naked on the side of a slow highway in the middle of the night, laughing hysterically. Standing up and falling down until he reached the edge of the road, he jumped down into a corner beneath the highway, where he stuffed handfuls of earthworms into his mouth, and then lay motionless on the ground, allowing them to crawl out before he finally turned over on his side and sobbed.
If 65 KG was an escalation of the confrontation with mortality that Zhang had begun in 12m2, his performance in Original Sound embodied a sense of hysteria provoked by the prospect of death and articulated the physical decay that ensues. He was only shaken from this line of morbid inquiry when complications surrounding his preparations for a performance entitled Cage(1996) resulted in a terrifying experience that served to confirm his lust for life: while practicing for the performance, in which Zhang was to ride around Beijing's subway system in a human-sized metal box with only a small window on its side, Zhang accidentally locked himself inside the container. In a statement in Rong Rong's East Village 1993–1998 (2003), a photo documentation of the community, Zhang describes his elation after being released from the container: "After I finally walked out of the box . . . I felt that I had experienced a state between life and death . . . Nothing is more precious than being alive. This scary metal box—I will never go near it."
As the output of the East Village artists grew, the authorial voices of individual artists became stronger and more identifiable, contributing to performances in greater and more independent capacities. Zhang continued to make collaborative works, such as To Add One Meter to an Anonymous Mountain (1995), in which he and nine other East Village artists gathered on Miaofeng Mountain on the outskirts of Beijing and stacked their naked bodies on top of each other with the aim of adding a meter to the mountain's height. Later that day they staged Nine Holes (1995), with the men lying prostrate with their penises inserted into holes that they dug in the ground while the women aligned their vaginas with earthy protrusions. But Zhang's appetite for pursuing projects as an independent authorial voice was growing. In 1997, he realized his first commission abroad, at the Watari Museum of Contemporary Art in Tokyo, where he staged 3,006 Cubic Meters/65 KG, an attempt to pull down the museum using a system of plastic tubes running from his body to the building's exterior. Where the authorship of To Add One Meter has subsequently been disputed by its participant artists, the equally iconic performance To Raise the Water Level in a Fish Pond (1997), in which Zhang and more than 40 men entered a pond in an attempt to displace the water by one meter, stands largely as an epilog to this brief period of collaborative works. By this time, it seems Zhang had learned how to protect the sovereignty of his work—he hired migrant workers to enter the pond instead of collaborating with his peers.
Perhaps because tales of New York loomed large in the consciousness of an artist community named after one of its neighborhoods, or perhaps because it offered greater financial opportunities than China's still-nascent gallery scene, Zhang moved to the United States in 1998, catching the tail end of a precedent set not only by Ai Weiwei, who moved to the US in 1981, but also Gu Wenda (1987), Xu Bing (1990) and Cai Guo-Qiang (1995). In New York, Zhang quickly fell into a schedule of performances and commissions from top cultural institutions, due partly to the reputation he had built in China, as well as the changing appetite of a cultural establishment that was beginning to look outside its own context for artistic talent.
Zhang began to incorporate explicitly Chinese objects in his performances, such as in Pilgrimage – Wind and Water, his first major work in the city, staged at P.S.1 in 1998 for the Asia Society exhibition "Inside Out: New Chinese Art." Lying on a sheet of ice placed on a traditional wooden Chinese bed, Zhang attempted to instantiate the cultural shock he felt upon arriving in the city. With nine pedigree dogs of different breeds tethered to the bed, the performance presented a stark contrast between the pampered animals and Zhang's discomfort as he attempted "to feel [the fear and culture shock] with my body, just as I feel the ice."
Over the next few years, the focus of Zhang's works began to shift from internal matters of the body to external matters of culture and state. In a similar vein to Pilgrimage, the artist's performance of My America (Hard to Acclimatize) registered his discomfort, even humiliation, with the difficulties of assimilating into the US. Staged at the Seattle Asian Art Museum in 1999, he had 56 naked American volunteers stand in tiered rows on a scaffold and throw stale bread at him. However, by 2002, Zhang was assimilated enough to strike a nerve among American audiences with My New York, a post-9/11 performance for the Whitney Biennial, in which he walked through the streets of Manhattan in a bodysuit made of raw meat—shaped to make him resemble a Hulk-like superhero—handing out white doves to onlookers who then released them in an immediate evocation of the US as a superpower. In a reference to the US bodybuilding culture, he struggled under the weight of his raw musculature in a false display of strength that spoke to the geopolitical and psychological anxieties of the time.
Zhang's exhibition schedule began taking him to increasingly remote cultural contexts and institutions in Europe and the Asia- Pacific region, and the focus of his performances became more scattered. In My Rome (2005), he bafflingly climbed around a white marble statue, while in Seeds of Hamburg(2002) the artist appeared in a large, square birdcage at Der Kunstverein, naked and covered in honey and sunflower seeds. Seeds of Hamburg was reminiscent of 12m2—this time, the concoction he wore was designed to encourage 28 doves and pigeons to peck at his body—and yet the performance had none of the socio-political relevance or raw intensity of the earlier work in the East Village latrine.
But Zhang was increasingly working less with performance and more with material forms of art practice, and often in mediums such as installation and printmaking. The transition is most clearly illustrated in works such as Family Tree (2000), in which he invited three calligraphers to write proverbs and fables in Chinese ink on his face until it was completely covered, obscuring his features in an attempt to invoke his own anonymity that was nonetheless clearly evocative of the use of blackface makeup in 19th- and 20th-century US theater and television. The work was not staged as a performance event complete with an audience, but instead for the camera, and it exists as a limited-edition series of prints of which Zhang is the sole author. In keeping with the performative but not collaborative spirit of his early works, Zhang has defined these working methods as "performance-based concept photographs."
By 2006, both Zhang's practice and ambitions outgrew the US, and he moved to Shanghai, a city he had only visited once before. In its southern suburbs, he set up a massive, highly departmentalized studio, occupying 75 acres, where he employs more than 60 assistants. There, he oversees the fabrication of a wide variety of large-scale works, such as monumental installations of animal skins, sculptures in copper and paintings made of the ash from burned incense, depicting everything from anonymous flags rippling in the breeze to fashion designer Christian Dior "in the comfort of his country home," as was explained on the wall text at an exhibition at the Ullens Center for Contemporary Art in Beijing in 2008. The studio is prolific, fabricating works in media with which Zhang had never previously worked, a reflection perhaps of the boundless opportunity and cheap labor and material offered in his home country, itself now a rising superpower.
Zhang's return to China, however, is by no means a rejection of his relationship with the US, as he continues to mount ambitious shows in New York, as well as in Europe. Increasingly, Zhang has turned to Buddhist themes, such as in his giant sculptural series of fragments of the Buddha's body re-created in ash and copper. He is also currently engaged as the director and set designer of an experimental production of Händel's 1743 opera Semele, which premiered in September at the Théâtre Royal de la Monnaie in Brussels and is due to travel to China in 2010. Despite the apparent lack of congruity—Semele is a comedy based on an ancient Greek tale of deities and adultery—Zhang says he is intrigued by the plot's relation to Buddhist ideas of reincarnation and karma.
To many of Zhang's East Village peers, the changes in the tone of his work have been stark and even disappointing. But to Zhang, it is a question of developing expertise and savvy. In a catalog essay for his major retrospective at the Asia Society in 2007, he wrote, "At the time, I was simple and naive; my only goal was to realize the performance. Afterward, I signed contracts with photographers and videographers for every performance piece . . . I believe that my experience is a good example for my colleagues and younger artists to be more professional." Zhang's involvement with Semelelooks to sustain a performative element in his work, even if he is not the protagonist, and yet his original stake in the presence and simplicity of his own body as a medium for direct action appears to have been lost.
—
DESIGNBOOM
zhang huan: q confucius at rockbund museum
Dec 23, 2011
–
HYPERALLERGIC
Zhang Huan's Painterly Buddhism

Poppy Field No. 12, 2012, detail (all photographs by the author for Hyperallergic)
Zhang Huan's new exhibition at Pace Gallery, his first since 2010, revels in the artist's newfound love of lush dollops of creamy oil paint. He's not the first one to slather on thick and buttery pigment, but his Poppy Field canvases evoke an abstract impressionistic feel; the effect is akin to Pointillism gone wild. Viewed from a distance, they break down like molecules into the sum of their atomic parts.
Huan's palette ranges from black and white to hues of grey, or a riotous festival of clashing colors. It's astounding that according to his dealer the layout of these images was originally computer generated, as they appear spontaneous and unforced. Viewed up close the pointillist dots transform into arcane adamantine grins of the Chitipati (Lords of the Funeral Pyre), skeleton dancers common throughout the sacred Tibetan cham practice and various other aspects of folk dance. This choice of content emphasizes his fascination with aspects of Tibetan Buddhism, particularly the practices of "sky burial" and chöd, wherein skeletons and skeleton faces figure prominently.
Poppy Field  No. 14, 2011 viewed from a human scale
Repetition is an undercurrent in these paintings. It's not the same as the repetition employed in Pattern and Decoration movement of the 1970s, but the structural elements of another Tibetan art, that of the minutia of sand mandalas.
Huan, a member of the East Village artists' community in Beijing, was originally known for his ascetic, monk-like piece "12 Square Meters," where he sat in an outhouse slathered in honey attracting and retaining flies all over his naked body. More recently, in an interview with Pernilla Holmes, Huan stated he became a Ju Shi or "householder" Buddhist about eight years ago receiving the name ci ren' or Sky Human. He has also studied Chán Buddhism, the Chinese precursor to Zen, with Master Sheng Yen in Queens, New York.
Detail of Poppy Field No. 14 from above
It is uncommon but not unknown for Chinese contemporary artists to incorporate aspects of tantric Tibetan Buddhism in their work. Those who do rarely achieve the fame or access to the West that Huan enjoys. Its a theme he has been exploring for decades, and includes his 2002 Whitney Biennial performance piece "My New York" where he strode through the city in a raw meat suit (before Lady Gaga poached the idea), and "Pilgrimage—Wind And Water In New York" his 1998 performance at PS 1 where he enacted the traditional Tibetan full-body-prostrations, or ngondro, before stripping naked and laying facedown on a block of ice surrounded by a cluster of yapping pet dogs.
Huan has jumped into the discipline of oil painting in a refreshing, and for him, sensuous style. He has softened his hard-fought austerity the only way an artist really knows how, by working it out through his art. Along the way he has reinvigorated a medium, avoided imitating his predecessors, and stuck close to his roots.
Zhang Huan's Poppy Fields continues at Pace Gallery (534 West 25th Street, Chelsea, Manhattan) through October 26th.
================================
ARTIST LIU XIAODONG
WALL STREET JOURNAL
Chinese Art Star Meets British Pub
Oct. 4, 2013 9:35 p.m. ET
Chinese painter Liu Xiaodong built a reputation among Chinese collectors by using Soviet-style realist techniques to portray the effects of China's industrialization on its citizenry, most notably in his 2006 "Three Gorges" series.
But to win over Western collectors at his first solo show in the U.K., Mr. Liu opted for subtle depictions of two sometimes thorny topics: immigration and pub life.
Liu Xiaodong's 'Green Pub' (2013) is part of his solo show at London's Lisson Gallery. Liu Xiaodong/Lisson Gallery, London
"Half Street," his debut show at Lisson Gallery that opened Sept. 27 and ends Nov. 2, features three oil paintings and 24 photos altered with acrylic paint that portray two English pubs, an Egyptian restaurant and the locales' occupants, many of them immigrants. Mr. Liu chose the sites for their unpretentiousness: "I don't like painting extravagant places."
Not all went according to plan. At his chosen Egyptian restaurant, an irate imam told him to delete photos he had taken for his painting, an event he details in his diary on display at Lisson.
"There are all these Middle Easterners living, existing and facing contemporary life in London, and it's difficult" for them, Mr. Liu said in an interview. So instead of customers, Mr. Liu depicted empty chairs and a table.
Mr. Liu's works are coveted by elite financiers in China. At Chinese auctions, his prices exceed $2 million. The paintings in the show run around $500,000, and the photos—"a new species of works," said Lisson dealer Greg Hilty—are around $15,000.
For "White Pub," Mr. Liu painted French chef Sebastién Lambot, his Polish wife and his toddler, who posed for four hours. "I started snoozing. There was nothing to do," Mr. Lambot said. But he added, "I want to take my baby to the Tate one day, point at the painting and say 'Look, that's you when you were young.'"
White Pub, 2013, oil on cotton duck © the artist. Courtesy, Lisson Gallery, London
On the face of it, Liu Xiaodong's latest exhibition at the Lisson Gallery in London reinforces usual descriptions of the artist's work as 'realist'.
 At the exhibition's core is a series of large-scale paintings depicting the interiors of two public houses and a restaurant that have been rendered with a distinctly under-idealising eye for detail.
In one painting a large dog slumps over a bar counter while its presumed owners stand in attendance, dressed in stained chef 's whites and scruffy summer working casuals. In another, an oriental style interior, uncannily empty of people, is represented; its kitschy petrolite surfaces and serpentine decorations contrasting with the sentinel presence of two starkly black, symmetrically counterposed electric fans.
Liu's work is open to differing socio-cultural perspectives
In yet another, a vampirically grey-skinned and sclerotic-eyed couple, again dressed in working clothes, preside bathetically over a pub interior in which a young child at play on a roughly boarded wooden floor seeks to return our gaze.
For those familiar with the urban interiors of London this is the instantly recognisable territory of the quick (or not so quick) after-work drink and the drunkenly impulsive late night curry or kebab – a world of intensely cosmopolitan babble and conversational telegraphings of almost certainly exaggerated urban professional lifestyles. Impressively, Liu has the visual semiotics of this intensely mixed-up gentrified 'spit and sawdust' world down more or less pat.
Liu's capacity to render the ripped backside of London life in such apparently knowing detail was aided not only by the artist's now well-established method of painting in situ, but also by his interacting actively with the individuals and communities he depicts. This signature approach no doubt enables Liu to gain far greater insights into the significance of the social milieus into which he enters than any amount
 of anonymous sketching or photograph taking.
It is also one well in tune with the persistence 
of realism as a dominant aesthetic within the mainstream (officially supported) artworld
of Liu's home territory – the People's Republic 
of China – where he is a professor at Beijing's prestigious Central Academy of Fine Arts. That aesthetic was self-consciously adopted during the early twentieth century as a culturally distinct framework for the development of a socially inclined and progressive modern art.
Yet Liu's actively engaged approach also allows his work to be aligned with the current international fashion for an art of social intervention and relationality. That sense of relationality is further supplemented by conspicuously unfinished passages throughout Liu's painting
, passages that are left as metaphorical invitations to the viewer to 'complete' the work.
As is the artist's sometimes visually disjunctive use 
of multiple panels as part of the making of a single image, both of which suggest a contemporary 'conceptual' re-motivation of conventional realist techniques (a reading that Liu himself actively resists).
In short Liu's work is open to differing socio-cultural perspectives: including one that enables him to work successfully within the prevailing socio-political conditions of the PRC and another conferring critical credibility within western(ised) contexts.
Like other contemporary 'realist' artists from China, 
a searching understanding of the multiple significances of Liu's work lies beyond a single gallery visit. Liu's current and highly engaging exhibition at the Lisson Gallery is, though, 
a very good place to start.
This article was first published in the November 2013 issue of ArtReview Asia

Issue 137
March 2011
Liu Xiaodong
Ullens Center for Contemporary Art, Beijing, China
For decades celebrated painter Liu Xiaodong has been searching for new ways to broaden the scope of his work beyond the confines of the two-dimensional canvas. In the 1990s Liu painted scenes of his family and friends, becoming a leading figure in a generation of Chinese painters which was interested in producing intimate depictions of the day-to-day reality of their immediate surroundings. Their perspective was not necessarily ideological; they neither glorified the working class and the peasants – as some revolutionary realist painters once did – nor approached their subject with condescension, guilt or curiosity borne out of class difference. They sought objectivity; their depictions were lively and contagious, sometimes focusing on the individual but often in a way that was relevant to the lives of most Chinese people. Liu's 1996 painting Disobeying the Rules, for example, shows a group of naked workers crowded onto the back of an open-topped truck together with several large gas canisters. Most of them turn their faces towards the viewer, grinning. When I first saw the painting, I could almost feel the familiar sensation of a van rumbling past me on the road.
Since then, Liu has continued to turn his gaze towards those pushed to the margins of society: migrants, sex workers or residents displaced or made homeless by the Three Gorges Dam project. He has often painted them from life, a strategy interpreted by some critics as a conceptual ploy and by others as evidence of an emotional commitment. In many of these paintings his subjects appear indifferent and unengaged, perhaps all too conscious of the social problems he seeks to portray through their presence, and therefore take on an image of 'otherness'.
Liu's latest project, Hometown Boy (2010), which was also the title of his exhibition at Ullens Center for Contemporary Art, brought these two interests together. Last year the artist spent two months in his home town of Jincheng, a small city in the Liaoning Province of north-eastern China, which he left in 1980 to attend art school in Beijing. Liu spent part of the spring and summer with his family and childhood friends, eating at their homes, drinking, playing football and singing karaoke. He painted them at home or at work, as they sat, stood and modelled for him. Liu documented his journey in a loose-leaf diary produced by the local paper factory, where his parents used to work. The project was also recorded in a documentary film, also called Hometown Boy, by famed Taiwanese filmmaker Hou Hsiao-Hsien. The film, together with Liu's diary entries, old photographs of his family and childhood, photos he took of his return home and the dozens of paintings he made during his stay, comprised his solo exhibition.
The hour-long film was more than a mere footnote to the exhibition: it explored a small industrial town left behind by the rapid pace of modernization and urbanization – despite which Liu's childhood friends live not very differently from their parents' generation. The film offers a glimpse of the lives of the subjects of his paintings, enticing us to invest emotionally in the details of their stories and the artist's relationship to them. Its inclusion added crucial context and power to Liu's figurative portraits, which might have otherwise fallen a bit flat.
At the beginning of the film Liu confesses that he feels anxious about the project, worried that his fame and commercial success as an artist may have affected his relationship to his childhood friends. And indeed the fact that his life has taken a completely different trajectory from theirs was visibly an obstacle for the artist – more so than for his friends. As it turned out, both they and his relatives obviously enjoyed spending time with him and appeared to regard his success with nothing but enthusiastic admiration. Liu, however, saw himself as an intellectual confronted by the reality of a disappearing working class – a phenomenon he clearly intended to illustrate in this project. Thus, by engaging with them as his artistic subjects, Liu himself remained irretrievably 'the other'.
Carol Yinghua Lu
===========
ARTIST YUE MINJUN
Last week, Fondation Cartier in Paris opened their doors to a selection of works from seminal Chinese contemporary artist Yue Minjun entitled L'ombre d'un fou rire (The shadow of a laugh). Featuring nearly 40 paintings from collections around the world, as well as a set of drawings that have never been shown in public, the showing marks his first solo exhibition at a European museum. Fans who can't get enough of his colorful characters with the signature frozen grin have several months to stop by for a look as the show runs through March 17th, 2013. Check out some photos as well as a video below…
Photo credit: Fondation Cartier, Desîgn, Pace Gallery, philippe pataud célérier.
Discuss Yue Minjun here.
yue minjun exhibition at fondation cartier
yue minjun exhibition at fondation cartier
Aug 09, 2012
The Beijing branch of Pace Gallery is currently showing a selection of new works from Chinese contemporary artist Yue Minjun. Exhibiting in his home city, the painter famous for his smiling self-portraits has included Christian iconography in this latest set of canvases as well as recent work leading the viewer to think about the role of Western influence in China. Is the ubiquitous grin pervading these works laughing at or laughing with the religious symbolism or is it just the Minjun's signature imagery innocently translated into a new setting? Even more interesting, rounding out the works for The Road are a series of pieces re-appropriating classical Christian paintings like The Annunciation except the main characters are missing leaving empty structures and buildings.
More after the jump…
===========================
ARTIST XUE ZHEN
Xu Zhen, the former Shanghai based, now Bejing residing artist, has been called an 'enfant terrible' more than once with his boundary pushing art which encompasses sculpture, multimedia and installation. Having exhibited a huge, imposing leather cathedral, dripping with bondage accoutrements, entitled Play201301, at Hong Kong's Art Basel, that stopped us in our tracks Fiasco had to find out more about this charismatic Chinese artist.
There was the 2005 installation 8848 Minus 1.86, which consisted of a video of Zhen climbing Mount Everest and cutting off the tip (1.86 metres, also the artist's height) and a refridgerated unit containing the frozen peak. The video is said to have been done in a studio; creating the question of it being more stunt than art. In 2008 he exhibited The Starving of Sudan, a recreation of photojournalist Kevin Carter's image of a young, starving child being watched over by a waiting vulture whereby Zhen placed a real African child on a straw covered floor with a large animatronic bird, allowing viewers to take their own version of the iconic image. Needless to say it created huge controversy.
In 2009, Zhen created MadeIn, an "art corporation" of which he was CEO and left the making of his art to his crew while ideas were generated in a think-tank manner with Zhen giving the final go-ahead. The company focused not just on creation but curation and has continually produced works since conception, however this year MadeIn Company became 'Xu Zhen by MadeIn Company', reverting a focus back onto the artist. We talk to Zhen about the transition of his company and his, often satirical, art.
Play-(201301) Installation
Genuine and artificial leather, BDSM accessories, foam, metal, wood ropes
545 x 300 x 330 cm
2013
Seeing Play201301 at Art Basel HK was what lead me to discover more about you and MadeIn Company. It was the first thing I saw as I came in and it practically blocked me from going further due to its scale and the intricacy that commanded my attention. Having since seen Safe House A and Play 4, is this piece connected and evolving from their creation? (If not, how did it come into being?)

There are indeed some visual connections between these different pieces, but not only these particular ones. Generally speaking, our recent creations are all related to one common large structure, this structure or 'self created language' constitutes a background for all our works. "Safe House" is a series of works especially created to respond to some social values and purposes. This series of works also refers to the cultural fitness exercise "Physique of Consciousness", the installation "Revolution Castings", etc. While the series "Play" consists in an exploration of various cultural characteristics and visual symbols intertwined together. It isn't merely a relation based on symbols, it is issued from the whole creating direction.
I walked around it for such a long time that I got to overhear people's reactions to it – my favourite was "like if Louis Vuitton owned a sex shop" – but many, once they'd worked out it was a cathedral, seemed to be struck by a blasphemous overtone. It certainly generated a lot of whispers. Is this a desired reaction to MadeIn Company's output? What kind of reaction/comment do you want the viewer to have with regards to your art?

Different reactions reflect different experiences, we cannot control the way people react, but we believe that these attitudes and comments are part of the work. We are always providing a certain "possibility" for discussion and memory.
Given the church and their history of attitudes towards sex but also the proliferation of sex abuse/paedophilia, was any of this part of Play201301′s original idea/end result?

The interpretations that can be imagined for these symbols are very broad, part of our goals when creating is how to use symbols to go further than what we can already imagine.
Play 20121109
Silicone, iron, hemp cordage, feathers and shells
Although previously there was the Hong Kong International Art Fair, how important is it for Chinese artists that Art Basel HK now exists, particularly with its remit that 50% of the show must be regional? Was there any doubt in your mind that you wanted to be a part of it?

For us, art fairs are a very good opportunity to realize our creations, we frequently participate to various art fairs in the world, including Art Basel in other countries.
After you started MadeIn you stated that you rarely got involved in the hands-on element and instead approved ideas and concepts. Has that changed in any way over the past few years, in either moving closer to certain projects or removing yourself further?

Most of the effort is spent on thinking. Part of the work also consists in the conceptual development of "MadeIn Company" and "Xu Zhen, produced by MadeIn Company". "Xu Zhen, produced by MadeIn Company" is a project that just started this year and a lot of new creations will be revealed soon.
Much was made of the freedom that doing MadeIn allowed you as an artist, but freedom always, eventually, finds new boundaries to be overcome. Have you encountered this yet and in what way?

To obtain more freedom, and develop the whole system's freedom, we can change the understanding of its notion. Our creations and development are based on long term regular work, this is also a basis to create a freer system.
Exercise 9, Posture 10
Video, performance, documents
2011
The change from MadeIn Company to Xu Zhen by MadeIn Company – how long did you consider that and why was this the right time?
This is one of the multiple projects that MadeIn Company has been working on, this project started this year, in fact from the beginning when MadeIn was launched, the definition of the company as a multi-functions creating corporate was established, therefore aside from the fact that we are a creating group we even have more possibilities. Three years before, we set a frame for "MadeIn Company", now it is the most appropriate moment to develop its content, and "Xu Zhen" is part of it.
You seem to have a vested interest in how Chinese artists, including MadeIn, can prosper given that there is little support from private or government funding. As the head/mentor/director of a company that wants to expand as well as all create the other projects that interest you, is there the feeling that you are not only (or less) 'artist' than when you began, and more in the role of a 'producer'?

This might be related to my working experience, from the beginning as the art director of BizArt Art Center, to the establishment of MadeIn Company, I have always both created works and curated shows, sometime my work also include writing, coordinating, etc. Perhaps my early years of working experience made me realize the necessity of working with a team. The difficulty of art today for me isn't only about producing a situation, it is also to propel a situation in a way it can have more influence and lead to challenges. I see all this work as creation.
Your work has been pointed out as satirical of the world it inhabits and you've referenced what MadeIn do as a "game" that everyone is still playing along with… is this a sign that despite the art world being seen as quite po-faced there's a healthy dose of self-deprecation within it? Why do you think your jabs at the art world and other artists are accepted?

Many people think my works are humoristic, but I think that I am a very serious artist. Including MadeIn, many people see it as something serious, but I actually think that it carries the fun and the risks of a game, everyone likes adventures and get together. The openness in the art field makes it accept things that have an adventurous spirit, enlarge this 'openness' is also part of our exploring area, because we are part of this system.
In moving from Shanghai to Bejing has this given you a new or re-energised vision for MadeIn? What do you hope to gain, both professionally and personally, from the move?

Wherever we are, we don't wish to be limited to a 'location', we need now a wider field to attract talents. We will need more people to realize our ideals in the future. This game requires more people to be involved, our work will be simultaneously carried on in different place all over the world.
Xu Zhen
The author didnt add any Information to his profile yet
FRIEZE MAGAZINE
Postcard from Shanghai no. 2
September 21, 2009 by Jörg Heiser
Artist Xu Zhen currently is the top dog in the Shanghai art scene, an energetic young artist bound to play the game of a media-savvy eclecticist who doesn't shy back from any displays of frivolously ironic conceptualism and cynical provocation. He's working under several aliases now, and also runs a website. But his show at Beijing's Long March Space last Winter also exposed the shortcomings of his game: the mother of a Guinean toddler was paid for her daughter to appear in a gallery scenario including an animatronic vulture, recreating the infamous 1994 photograph of a starving Sudanese baby girl stalked by a real vulture (a video version was shown in Basel's Art Unlimited this June). Layering levels of voyeurism, exploitation and shock on top of the ones already associated with the original photo does nothing to actually allow political or aesthetic insight – it just serves to create, so to speak, the animatronic imitation of an actual debate. Where censorship and a lack of platforms for critical exchange prevent this debate from happening, this kind of stuff fills the void. Just compare Xu Zhen's piece to Alfred Jaar's The Sound of Silence of 1995: the latter's is a filmic-textual essay set in a kind of choreographed installation, based on the story of the same photograph, also working with shock and voyeurism. Jaar shows you the original photograph, combined with a blinding flash of lights, as if burning it into your brain tissue. He's not however out to just feed on the shock value and heightening it in terms of exploiting yet another person (and by way of that making the exhibition visitor an unwillingly complicit as well), but actually creates a thought-provoking collision of political engagement, ethical guilt, and aesthetic analysis.
I could go on but back to Shanghai: here, Xu Zhen – having renamed himself into an artistic entity called 'MadeIn' – dominated the central hall of the ShContemporary Discoveries section with what seemed a piss-take of the typical Expo or Olympics sculpture involving fake grass, decorative columns and odd mannequins – but again one couldn't help but think that he fed on the logic of hugeness rather than deflating it. Even more ambitious was his show at Shangart Gallery, spread over several spaces. Again authored under the alias 'MadeIn', he created a fake group show displaying works of Mid-Eastern artists. And again he pulled the registers on the pipe organ of grand gestures, and pushed the usual buttons: one space is a swimming pool with doodled paintings placed around it, another space features Styrofoam pieces reminiscent of the kind of bulky packaging material used for TV sets etc. But here, the cut-outs are not for home entertainment but for miniature mosques and life-size machine guns. As said, the usual buttons. There is also a miniature oil well pump made of barbed wire.
Rumours abound that supposedly the show was threatened with being closed due to diplomatic concerns and/or, simply, censorship, but one can't help but think that that is yet another button being pushed. Even if true, how frustrating it must be if one feels obliged to show solidarity with a censored artist or writer whose work one otherwise isn't necessarily convinced of. All of that said, Xu Zhen remains an active force in Shanghai, and there are certainly more, and possibly better, things to come (Hans-Ulrich Obrist, for that matter, in conversation said something along these lines).
The most talked-about group show was 'Bourgeoisified Proletariat', organised in a new building, the Songjiang Creative Studio, on the outskirts of Shanghai, just across from Ikea (press release here). Everything, not necessarily in a bad way, looked slightly improvised, although the show included large ambitious installations. And – surprise, surprise – a certain 'MadeIn' was listed as one of the co-curators, and one of the artists in the show. Here, Mr. 'MadeIn' created a disco-space with a huge dopamine-molecule in the middle entitled Love in Fact Results from an Excess of Dopamine in the Brain (2009), plus all sorts of (English) sentences on the floor made of necklace chains (_Metal Language_, 2009), including banal stuff such as 'did you bring the DVDs I asked you' next to more implicational-sounding ones such as 'job what job?' But what got us more talking on the way back in the car was Kan Xuan's sound installation Dead, which we all felt wasn't maybe 100% fully convincingly realized on the aesthetic-technical level, and certainly also we didn't fully understand (where were the sources from, what was it really about?), but in any case the screams and voices in it created a haunting sense of urgency. Same for Zhang Peili's Unnecessary Collision (2009), an installation involving two bones clashing through a remote-controlled mechanism, accompanied by a literally bone-shaking sound. This may sound wannabe-spooky, but was in the best sense deadpan. (Peili is a super-important veteran of Video art in China, and is heading the leading video department at the China Art Academy of Hangzhou.) Yang Fudong's video installation My Heart was Touched Last Year (2007) involved two glamorous-looking (Shanghai?) ladies looking at the camera on two screens in separate rooms, back to back. In both scenes the punch line was that they never, by way of editing manipulation, blinked. A bit too one-liner for my taste, but others liked the piece.
Third and last postcard from Shanghai will include a studio visit with Zhang Huan, who is more than just a sort of hardcore no-nonsense forerunner to Xu Zhen, and a short discussion of the best group show currently on show in Shanghai, 'History in the Making: Shanghai 1979-2009'. Bear with me.
About the author
Jörg Heiser is co-editor of frieze and co-publisher of frieze d/e. He is based in Berlin.
==============================
ARTIST MAO YAN
Mao Yan (1968)
Posie Musgrau
oil on Canvas,
72.5 x 53.5 cm
2010
Nora
oil on Canvas,
36 x 27.5 cm
2007
<< back
ARTSY
Mao Yan
Chinese, born 1968
About Mao Yan
Mao Yan's luminous, soft-colored oil portraits place his sitters in quiet abstract settings, capturing them without any prominent emotion or expression and often only simple outlines for clothing. Mao attempts to use as few brushstrokes as possible in an effort to simplify form and capture an essence rather than a likeness. "I don't pay more attention to representation of individuality; excessive attention to representation could only lead to narrow-mindedness," he has said. Mao is perhaps best known for his "Thomas Series" (1998-2009), a collection of nearly 100 portraits of a close friend and Luxembourgish expatriate named Thomas who, by the end of the series, resembles an ethereal shadow, his likenesses bathed in so much light and movement as to verge on abstraction.
THE NATION
Talent and instinct
 Zhang Zixuan
China Daily
Asia News Network
Beijing July 1, 2013 1:00 am
China's Mao Yan says his work reflects his own state of mind
With centre-parted short hair and baggy old jeans, 45-year-old Mao Yan looks more like a rebellious youth with the bearing of a sharp and sensitive artist. The vanguard painter is said to be the most difficult to define among today's Chinese art icons. His works are extremely contemporary, though the artist claims to have a serious classicism complex.
He has stayed in Nanjing for years, while other artists proceeded northward, flocking to the capital.
Despite the multifaceted symbols and concepts emerging in the endless stream of contemporary Chinese art, he sticks to portraits, the most traditional subject of easel painting that has gradually been pushed aside by newer art forms.
"Painting to me is an instinct," Mao says. "I don't like doing things 'on purpose' and I have no need to prove myself just for a trend or an idea."
At Pace Gallery in Beijing, Mao is presenting his first solo exhibition after signing with the gallery.
Featured works include several pieces from his best-known Thomas Series from the late 1990s and a few unconventional portraits of animals. Two large-scale portraits of naked women painted this year are the artist's first-ever showing of this kind.
Mao was named the most influential oil painter of 2012 at the Seventh Award of Art China in May. He along with three others were also named the Martell Artists of the Year last month.
"I heard many fellow artists highly praise Mao's superb technique, but what is most precious is his earnestness in work, which is like a mirror that shames those pretenders," comments artist Li Xiaoshan.
Studying painting with his father since the age of three, Mao quickly showed his precocious ability and was labelled a genius even before he entered the Central Academy of Fine Arts in 1988. In 1992 the then-24-year-old achieved national fame at the 1990s Art Biennale held in Guangzhou for his work "Portrait of Xiaoshan".
He continued to portray his friends until the late 1990s, when he met Thomas, an overseas student from Luxembourg. For the next decade Thomas was the only subject on Mao's canvas.
"Subjects depicted during Mao's 'pre-Thomas period' had faint social identities, age characters and completed postures. Later these elements were simplified yet the personality became stronger," comments writer Han Dong.
"Thomas is only a cover – it could be anybody, including myself," says Mao, who intended to escape from the booming cluster of Chinese symbols at that time by portraying a foreigner.
These finished portraits are therefore a far cry from the original model. "There is surely resemblance in appearance and character, but I endow the figures with extra features through the eyes and facial expression, and through the tone," Mao says.
Mao also likes to infuse instant feelings into every stroke of the brush. For example, if he is obsessed with Song Dynasty (960-1279) poetry during a certain period
of time, his inspired sentiment will be reflected in the following works.
Since the mid-1990s, colours of flame and warm brown in his works have gradually been covered and replaced by a much calmer tone of grey, which has lasted till today.
He brushes each canvas with multiple thin layers, which creates a progressive visual that prints fail to capture. But such a method of painting slows down the process and limits him to a few pieces per year. "Every piece deserves years of efforts," Mao believes, stressing that even this must be after "good communication with the model" – otherwise the process "is very likely to continue infinitely".
The market has corroborated his pursuit of perfection. In 2007 Mao entered the million-dollar club when his oil painting "Memory or Dancing Black Rose" nearly twice that at the Beijing Poly Spring Auction. And in 2011 Mao's "Portrait of Xiaoka" set his highest record at an auction house.
Aside from the Thomas series, which will continue, Mao says, he is preparing a new portrait project studying the images of Chinese people. That, he says, "will be a lifetime project".
"I enjoy spending a long time doing one thing without giving much thought to its meaning or result," he says. "It is my painting principle as well as my attitude toward life."
OFF YOU GO
Mao Yan's solo exhibition continues at the Pace Beijing Gallery until July 20. It's in the 798 Art Zone on Jiu Xian Qiao Road.
Learn more at http://www.PaceGallery.com.
==========
ARTIST ZHU SHINSHI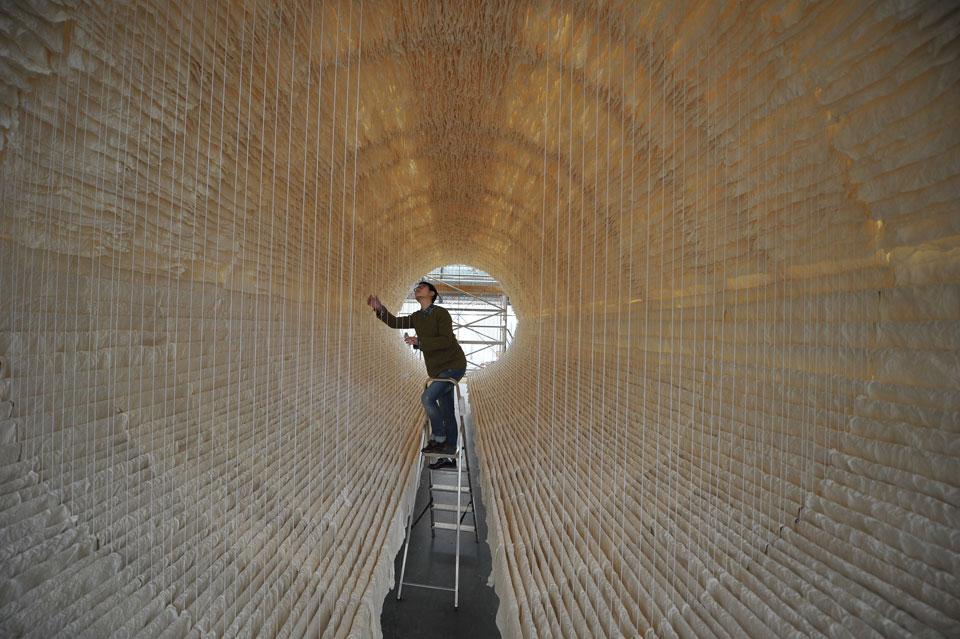 Zhu Jinshi: Boat
At the inaugural Art13 contemporary art fair, the Chinese abstract artist presents a monumental 12-metre installation composed of bamboo, cotton and 8,000 sheets of rice paper for Pearl Lam Galleries, creating a dense and sensuous field of colour.
During the recent inaugural edition of the Art13 London art fair, Chinese abstract artist Zhu Jinshi presented Boat, an installation for Pearl Lam Galleries composed of bamboo, cotton and 8,000 sheets of rice paper in a striking 12 metre-long structure.
Zhu Jinshi began creating abstract works in the late 1970s. In order to exhibit in an "official" capacity, he joined the Stars (Xingxing), a group of Chinese artists that included Ai Weiwei and Ma Desheng, and participated in their seminal Beijing exhibition in 1979. At Art13, Zhu Jinshi's work was represented alongside another major Chinese abstract artist, Su Xiaobai. The work of both artists attempts to illustrate that Chinese abstract has been a major, undiscovered force in contemporary art.
"Zhu Jinshi and Su Xiaobai are radically different artists, yet each exemplifies the essence of contemporary Chinese abstract painting," stated abstract art expert Paul Moorhouse, former curator at Tate Britain and now Senior Curator at the National Portrait Gallery, London, who visited the artists' studios last year said. "Working spontaneously, Zhu creates impossibly dense, sensuous fields of colour. Su develops his paintings patiently, slowly refining their exquisite, veneered surfaces. This profound feeling for evocative materials, and their shared emphasis on creating an abstract physical reality, is entirely distinctive — and completely compelling."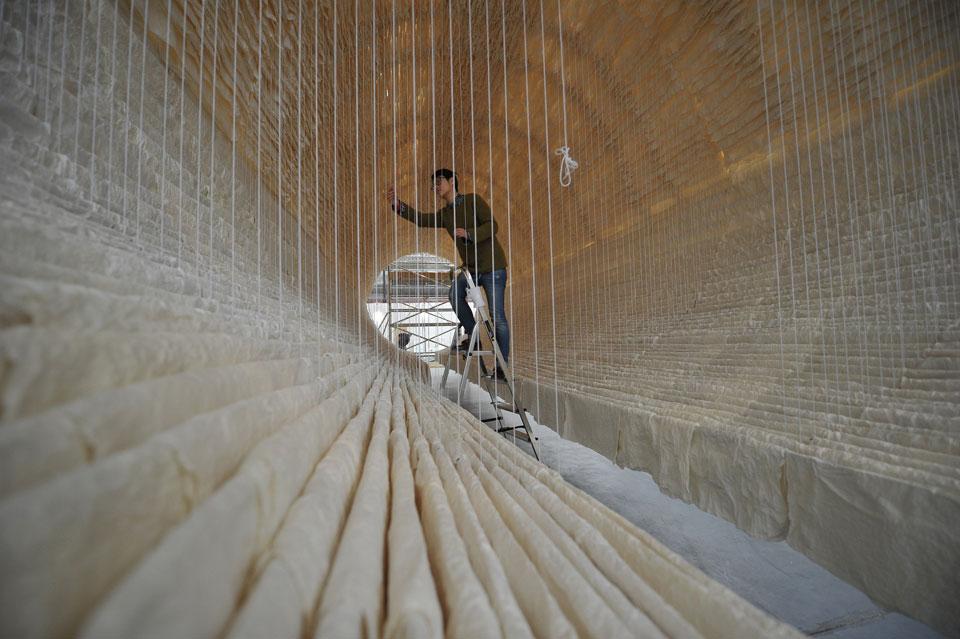 On top and above: Zhu Jinshi,
Boat
, Art13, Olympia Grand Hall, London, 2013
"Zhu Jinshi and Su Xiaobai are Chinese artists who deconstruct Western theory of art and visual language by rooting them to Chinese traditions and philosophy," said Pearl Lam. "This year, both artists have important solo shows at Pearl Lam Galleries and I am proud to bring this selection of works for their London debut. Zhu Jinshi's rice paper Boat, which is instilled with cultural resonance and embodies the artist's personal voyage, will be journeying from Shanghai to London for the first time."
Zhu Jinshi, Boat, Art13, Olympia Grand Hall, London, 2013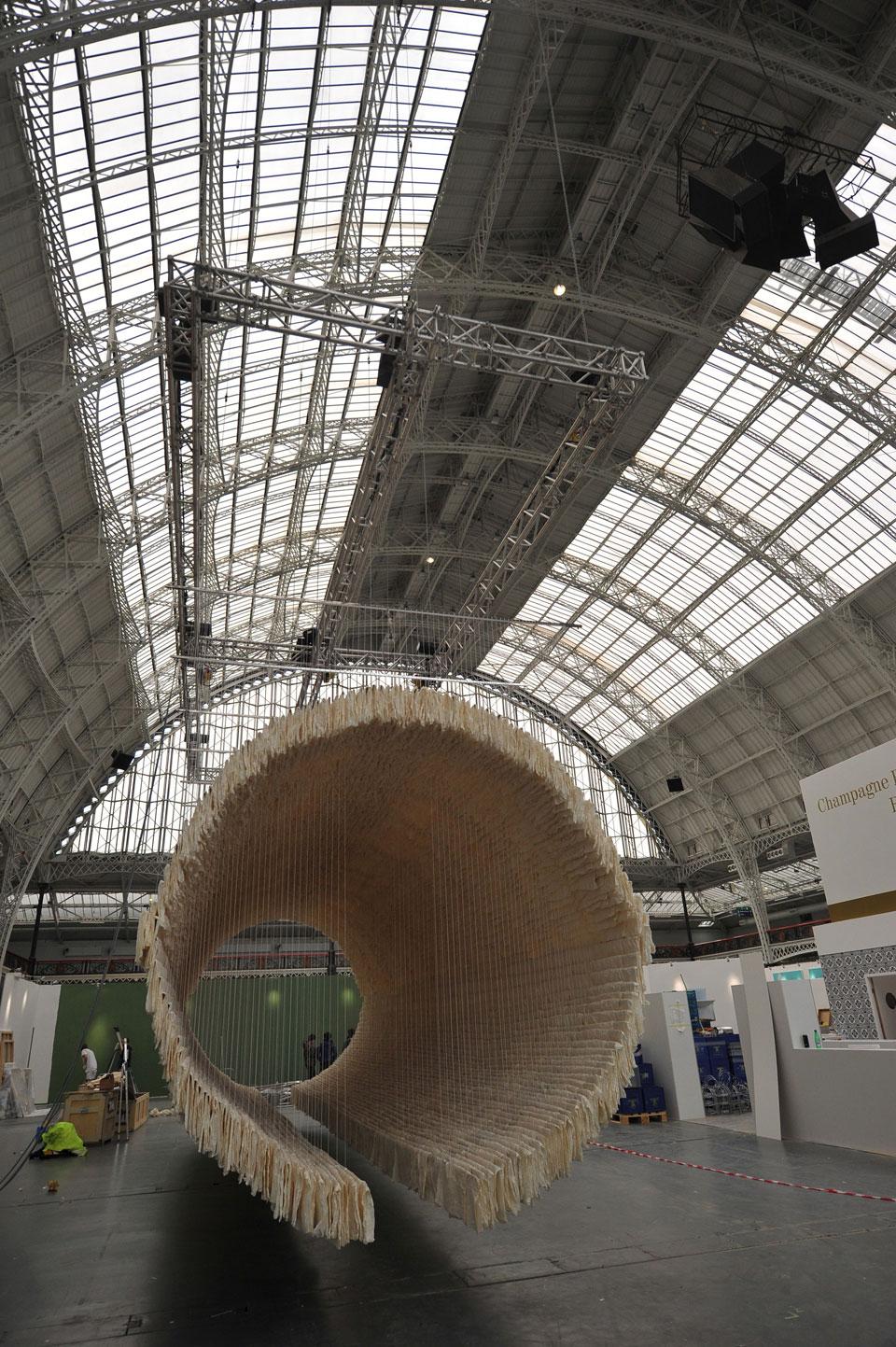 Zhu Jinshi, Boat, Art13, Olympia Grand Hall, London, 2013
art / 4 Mar 2013 /By Ellen Himelfarb
Zhu Jinshi's 'Boat', a 12m-long cylinder of rice paper and bamboo, came to London for Art13, the city's newest art fair
1 / 3
An ambitious paper and bamboo installation by Chinese artist Zhu Jinshi was the centerpiece of Art13 London, a new international art fair that launched last week with a similarly impressive scope.
'Boat' is the masterwork of Zhu Jinshi, one of two contemporary Chinese artists brought to London by the Hong Kong- and Shanghai-based gallery Pearl Lam (the other is Su Xiaobai, a disciple of the late Joseph Beuys). The 12m-long cylindrical vessel was docked at the heart of Olympia's Grand Hall and echoed the space's heroic arched-glass ceiling.
Pearl Lam made, perhaps, the biggest splash at Art13, the largest art fair to launch in London in more than a decade and a spin-off of Art HK, the fair that helped shape Hong Kong into a world-class contemporary-art hub. Unlike Frieze, that other ambitious London art fair, Art13 had a decidedly international presence, with about half its content coming from non-Western artists and a significant delegation from Asia.
This, according to Lam, stems from an effort to demystify Asian cultures and philosophies for the Western consumer.
'To understand us, you really need to know about our roots, our art, how we behave. Everything is rooted in 5,000 years of culture,' said Lam. 'A fair for me is not just about buying art but understanding other cultures.'
'Boat' was assembled over three days by an army of workers imported from Hong Kong. It constitutes 8,000 sheets of rice paper, a medium with cultural and historical resonance in China. The delicate layering of the paper, supported by 800 slender shafts of bamboo, belies the sheer size and visual impact of the work.
The piece can be seen as a metaphorical arrival of Chinese culture to the world stage and the implications of its arrival for East and West. This cultural conversation is a recurring theme of Lam's artists, even those she brings back from the West to her galleries at home in China. 'Our gallery has always been about cross-cultural exchange,' she says. 'It's about cross discipline. It has always been that way.'
Read more at http://www.wallpaper.com/art/gallerist-pearl-lam-docks-zhu-jinshis-boat-at-art13-london/6384#pvDgg4QAAE8yFMX1.99
—
http://www.theglassmagazine.com/forum/blog_post.asp?TID=5811
13/06/2013 02:41:26
 Romance of the West Chamber 3西廂記 三 (2012) Oil on canvas 布面油畫 100 x 80 cm (39 2/5 x 31 1/2 in.)
A major exhibition of works by Chinese Abstract Master: Zhu Jinshi is currently on show in Hong Kong, until July 13th.
Zhu Jinshi: The Reality of Paint, at Pearl Lam Galleries, is curated by Paul Moorhouse, Abstract Expert and Curator of 20th Century at the National Portrait Gallery London, and features 26 new strikingly dense and abstract oil paintings. It is also Zhu Jinshi's first solo show in Hong Kong.
Who Will Be Li Bai 誰演李白 (2012) Oil on canvas 布面油畫 180 x 160 cm (70 1/10 x 63 in.)
During the Cultural Revolution, Zhu Jinshi was an active participant in underground cultural and literary activities, and in the late 1970s emerged as a member of the renowned and groundbreaking 'Stars' (Xingxing) avant-garde artist group alongside Ai Weiwei and Ma Desheng.
Working in Berlin in the 1980s and influenced by Kandinsky, Zhu began his lifelong commitment to the language of pure abstract form. It was in 1980s Berlin that Zhu was exposed to German Expressionism, while the speed and spontaneity of his brushwork is attributed to influences by xie yi ink-and-brush paintings.
Highlights of the exhibition include Water Lilies, 2006, which curator, Paul Moorhouse has included deliberately for its importance in the stylistic and material evolution of Zhu's work; it marks his move towards a more vibrant palette whilst hinting at his preceding work. The series of three paintings Hard Roads in Shu, will also be on show for the first time at this exhibition. Inspired by the literary works of renowned Tang dynasty poet Li Bai (701 – 762 AD) that describe the sublimely majestic mountains and impassable valleys in Sichuan (Shu).The influence of traditional Chinese landscape genre paintings can also be seen here with large areas of blank canvas left (liu-bai), a noticeable departure from his previously covered canvases. Zhu Jinshi said of his series "Although these painting are not able to move mountains or break stones, the exceptional power of these paintings lies in their ability to clear the mind of all worries… creative and spiritual pathways."
The Reader's Words 閱讀者的字 (2012) Oil on canvas 布面油畫 100 x 80 cm (39 2/5 x 31 1/2 in.)
"Zhu Jinshi is one of China's leading contemporary artists.  His highly distinctive approach was apparent from the early 1980s, when he made his first abstract paintings…Colour, light, texture and atmosphere are vital elements that animate these extraordinary works, informing them with the mysterious aura of life." – Paul Moorhouse
Zhu Jinshi: The Reality of Paint
Until July 13, 2013
Monday-Saturday, 10am–7pm
Pearl Lam Galleries, 601–605, 6/F, Pedder Building, 12 Pedder Street, Central, Hong Kong
Images: Courtesy Pearl Lam Galleries
by Tara Wheeler